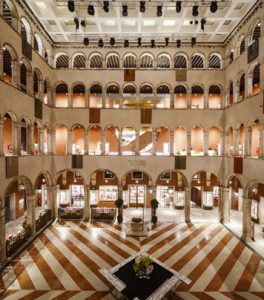 Shopping is a passion. Shopping in Venice is a must.
Venice is not only famous in the world for its history and architecture, but also for being full of nice and high-quality shops and brands.
Where to go shopping in Venice so? Here's a list of places where you can find different kind of stores and beautiful handmade products.
Shopping in Venice can be expensive, but it's always worth it.
Mercerie
The area from Campo San Bartolomeo to Saint Mark's Square is called Mercerie and it's where Venetian people used to stroll and stop by those stores where you could find everything you wanted.
Back in centuries, at the Mercerie you could find different dry goods stores and places where to buy some unique accessories. Nowaday, these streets are covered with brand shops, such as Gucci, Bottega Veneta and many others.
If you want to immerse yourself into a luxury world, this is the right place where to dream and buy something that make you feel like a modern Venetian noblewoman.
Looking for a Venetian mask? You'll find thousands here!
Fontego dei Tedeschi
This is a brand new shopping center in Venice. The palace of Fontego dei Tedeschi is the ancient headquarters of the city's German merchants. It was built in 1228 and during the 20th century Poste Italiane had some of its offices here. Today, the palace has been renovated and taken by DFS Group Limited, the world's leading luxury retailer catering to the traveling public.
If you are looking for a prestigious bottle of wine, a pair of shoes, or a fascinating Murano glass vase, this place won't disappoint you.
Don't miss the chance to visit the beautiful rooftop terrace, from where you have a breathtaking view of the city.
Burano island
If you want to come back home with an original Venetian lace, Burano island is the place to buy one. In the city you'll find several shops that sell Burano laces, but walking around in a colorful world, taking your time, visiting the Lace Museum and then choosing you piece of art has totally another taste.
Murano island
Do you think that a Murano Glass sculpture will fit with your living room? There's spoilt for choice, but we suggest you to pay a visit to a furnace, to learn how those fantastic works of art are created.
The technique used for blowing and managing glass in Murano is ancient and unique, this is the reason why the cost of a chandelier or a vase is high. Don't trust all those shops where a small prancing horse costs a couple of euros, it might be nice and cheap, but it's not original.
Last but not least, we are sure that if you get lost, especially around Fondamente Nuove, you will find some artisans boutiques and hidden ancient shops. Are you still in doubt of where to go shopping in Venice?