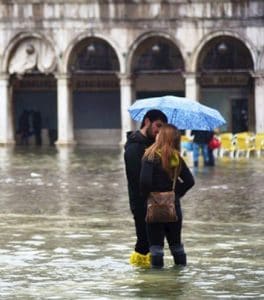 "Acqua alta" is how Italians call the high tide. It occurs every now and then in Venice. Seeing the high tide can be a great experience when you are visiting Venice. Although it's something that naturally occurs, it is not really a good thing.
Before discussing all you need to know about the high tide in Venice, we would like to underline that the presence of "acqua alta" does not mean that the city is sinking. This phenomenon is absolutely natural, and is due to astronomical, geographical and meteorological influences.
Why high tide floods Venice?
This is probably the first question you asked yourself.
First of all, the acqua alta is directly influenced by the moon. Every six hours it goes up and down. This can be an advantage, which can help you predict the waters top level and decide if you need to carry a pair of rainboots with you!  Acqua alta is also affected by the "scirocco", a strong south-east wind.
When does acqua alta flood the city?
If you come to Venice between November and December the chance of finding the acqua alta is very high. However, you don't have to worry about it disrupting your stay with us, Cannaregio, where our hotel is located, is not one of the low areas in Venice. This means you will not frequently find the high tide having an effect on this area.
Some useful tips about high tide in Venice
If you are visiting Venice during the high tide period, you should be aware of a few things.
First of all, consider buying a pair of rain boots in Venice or packing them in your suitecase. Then, be careful when you walk because when the acqua alta is really high, you barely can recognize the end of the street and the beginning of the canal.
To keep yourself informed about the situation and the level of the high tide you can download the free app called hi!tide or visit the Venice municipality website.
Do not worry about the possibility of getting wet, if you are wearing a pair of rainboots and you walk on the wooden walkways all around the city you won't have any problem. You can have a safe and unforgettable experience in this amazing, and sometimes flooded, city.