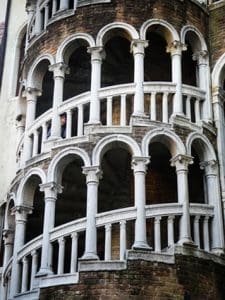 Venice is a labyrinth of streets and canals, where you don't have to be afraid of getting lost, since everywhere you go, you will find something to discover.  Palazzo Contarini del Bovolo is an example of what Venice can offer away from the classic touristic routes. Its particular snail staircase is an architectural gem, that you won't find anywhere else in the world.
The Scala Contarini del Bovolo is a snail staircase, located right next to the namesake palace, few steps away from Campo Manin. It doesn't show a single architectural stlye, in fact, it presents 3 different styles: Renaissance, Gothic and Byzantine.
At the first sight you might think that it seems like the famous Pisa Tower, because of its numerous arches, but the Scala Contarini del Bovolo wasn't built in the same period of the Pisa Tower, actually quite 500 years after.
History
Initially, the Palace was owned by Morosini's family, but then it was sold to the Contarini's who were celebrating the marriage between Caterina and Zuanne Contarini Morosini.
Their son, Pietro Contarini, is the one who commissioned this marvellous staircase.
Adding this particular staircase to his house was a way to gain some prestige among the noble families of the time.
It seems like the architect was Giovanni Candi, since he was owned some credit from Pietro Contarini as he wrote on his testament, but it still not sure, even if the technique that was used is really close to Candi's style.
When and what you can visit
After a long time closed, the Scala Contarini del Bovolo is now visitable. You can climb the tower till its hedge, through the snail staricase.
On the top you will access the the lookout.
From here, you can enjoy a fantastic view of Venice from above.
Along with the staircase, you can also visit the loggia which is connected with the Scala del Bovolo. The Loggia on the second floor leads to a room of the Contarini Palace, which is home to a IRE art collection.
One of the most interesting pieces of art showed in this collection is the sketch that Tintoretto made for the Paradiso painting, that you can admire in the Doge's Palace.
Palazzo Contarini del Bovolo tickets and opening hours
As we said, the Scala Contarini del Bovolo is now open and visitable. Since the snail staircase isn't that spacious, the ticket is valid for a 30 minutes visit. You can decide and book you visit on the official website.
Visiting this unique piece of art costs 7 euros per person and if you want to include an audio guide, you just have to add 1 euro.
You can visit the Bovolo staircase everyday, from 10am to 1,30pm and from 2pm to 6pm. But be aware that the ticket office closes 30 minutes before the monument.
Want to see something unusual in Venice? Go and visit the Scala Contarini del Bovolo!