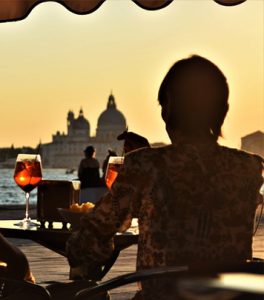 If you like having happy hours as we do, you certainly know about the most famous and traditional aperitif in Venice; the Spritz. In the article we wrote about a bacaro tour idea [link to bacaro tour idea], we mentioned that Venetians love to have a break after work, sit down at a bar and sip a "ombra" (little glass of wine), but the truth is that we often order a spritz too. Spritz is a word that means many things to us. It represents a moment of sharing with friends, an occasion to meet people we haven't seen for a long time and a way to end the day with a smile.  
The history of the Venetian Spritz
During the Habsburg Empire in Veneto, the Austrian diplomats and employees got used to Venetians' habit of drinking a glass of wine after a long day at work. The fact is that they weren't accustomed to such strong wines. The Veneto's wine were too alcoholic for them and this is the reason why they started asking to spray a bit of water into the wine, to make it lighter.
As you see, originally the Spritz was just made by water and white wine, but when the siphons for carbonated water became available, the Venice's Spritz Aperitif started to be the one we know and drink nowadays.
After a while, in 1919, Aperol was presented at a fair in Padua, and the idea of adding it to the traditional Spritz started to take a shape in Venetians' minds.
A curiosity about the name "spritz"
Spritzer is the name that Austrians use to call their cocktail made by soda water and wine. This is the reason why the most famous Venetian aperitif is called Sprtiz.
How to make an Aperol Spritz
Once you have taste it in Venice, you can easily replicate it at home.
Here's the original recipe of the Venetian Aperol Spritz, but you can also make it with Cynar, Select or Campari.
In order to make a real Aperol Spritz, you have to put the same quantity of sparkling water (or selz if you have it), prosecco (not any wine) and Aperol.
Let's start:
Take a cold glass and put some ice inside

Pour the prosecco wine (⅓ )

Add the sparkling water (⅓ )

Add the Aperol (⅓ )

Garnish with a slice of orange and a olive

Served with something salty to eat
Your favourite drink is ready.