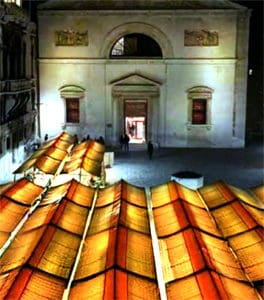 Did you know that there's a flea market in Venice? Most people don't, except for Venetians of course, but it's something that you need to see if you come to the city when it's open.
We are talking about the San Maurizio flea market, located in the "campo" (small square) of the same name, on the way to St. Mark's Square, not far from the Accademia bridge.
The campo where the flea market takes place is famous because that's where you'll find Carlo Goldoni's house – the well-known Venetian comedy writer, who lived here from 1803 to 1804 – and Palazzo Zaguri, a magnificent building that usually hosts interesting and unique exhibitions.
What to buy at the San Maurizio flea Market?
To be honest, it will be hard not to find something to buy here. At the San Maurizio Flea Market, you'll find old books, prints, unique pieces of furniture and paintings from the period between the 17th and 20th centuries.
You'll be surprised to see how many unusual things you can buy here, especially if you're looking for a souvenir to take home, or you're just in the mood for some vintage shopping.
The pity is that the San Maurizio Flea Market happens to be open just five times a year, so you'll be lucky if you get the chance to see it during your holidays in Venice.
The market was created in 1970, and since then it has always been organized in the exact same way until today. It's a tradition that every seller from the whole country respects and protects.
Getting lost among the stands is part of the game. Take a couple of hours to experience this incredible moment for the city and live the real Venice, made of people who love their hometown.
When does the San Maurizio Flea Market take place?
To find out when the market will be open, you can visit the official San Maurizio Flea Market website, but here are the 2019 dates.
The first appointment is in April, from the 12th to the 14th, a week before Easter.
Then it will be open again on May 9th-12th and on September 20th-22nd.
The last two appointments will be in October and December, respectively from the 18th to 28th and from the 6th to 8th.
If you haven't booked your flight yet, think about coming to Venice on these dates. We will be happy to have you at our hotel.