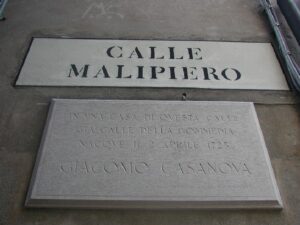 Everyone has heard of the famous Giacomo Casanova at least once in his life. Usually what he is mentioned and remembered for are his countless conquests. But Casanova was not only a dashing lover but also a great lover of life and literature, a great writer and poet and this is how we usually describe him to our guests. 
In this article, we discover together who Giacomo Casanova was and reveal some interesting facts about his birthplace and various other places he used to frequent.
Who was Giacomo Casanova
Giacomo Casanova was born on 2 April 1725, into a family of theatre actors. His father, Gaetano Casanova, was an actor and dancer from Parma, while his mother, Zanetta Farussi was a famous Venetian actress, whom even Carlo Goldoni mentions in his memoirs. 
But Casanova did not grow up with his parents. Being itinerant actors, they were never at home and his father, moreover, died when Giacomo was only 8 years old, so he was raised by his maternal grandmother in Venice. 
He studied law in Padua and succeeded in graduating in 1737. He then left for Corfu and Constantinople, but a few years after his return to Venice, the grandmother who had raised him died and he was devastated by her loss. 
This is where his amorous adventures (and misadventures) begin, with Greek slaves, nuns and noble women. This somewhat unbridled and libertine life of his leads him to be pursued by the inquisitors and he is locked up in the Piombi, the prisons located in the attic of the Doge's Palace, from which he manages to escape thanks to the help of his cellmate: the friar Marino Balbi.
Giacomo escaped from Venice, went to Bolzano, then Munich and finally to Paris, where he wrote his memoirs.
Casanova's house
But where is Giacomo Casanova's house? Does it still exist? These are just some of the questions our guests often ask us about this great character, and here is the answer: his house probably still exists, but nobody knows which one it is. 
We know for certain, thanks to his memoirs, in which calle he was born, Calle Malipiero, a short distance from the church of San Samuele, on the third floor of one of Count Savorgnan's properties. A marble slab at the entrance to the calle confirms this: Giacomo lived here until 1743.
Other places frequented by Casanova in Venice
As we have seen, Giacomo Casanova lived for many years in Venice and some of the places he used to frequent still exist today and can be visited, such as the Caffè Florian, for example, in St. Mark's Square. This Cafè was opened in 1720 and over the years saw many illustrious guests sit at its tables, personalities such as, Carlo Goldoni, Lord Byron, the painters Canaletto and Guardi and even our own Casanova.
Near Campo Sant'Angelo is the Cinema Rossini ex Teatro San Beneto, which Giacomo used to frequent, and in Campo San Maurizio at the time lived two characters whose company Casanova loved: the erotic Venetian poet Giorgio Baffo and the senator Pietro Zaguri, of whose family the palace of the same name remains, today the site of temporary exhibitions. 
One last stop to finish: Osteria Do Mori, near the Rialto. Stop here, in this bacaro, to taste some typical Venetian cicchetti and have a glass of wine, just like our Casanova used to do. Which, to be honest, if Casanova had lived in our times, he certainly would have popped up on our romantic terrace, here at the Hotel Arcadia, along with one of his flames of the moment!
Read also: Where to drink Spritz in Venice