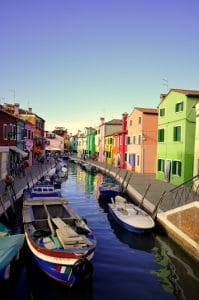 Visiting Venice means also considering the idea of visiting its most known islands: Burano, Murano and Torcello. These three islands are not that far from Venice and are easily reachable by boat.
How to organize a day trip to Burano, Murano and Torcello
You have two ways to visit these three islands: enjoying a guided tour or going by yourself.
There a lot of guided tour that can take you to the islands, but most of them have a duration of 4 hours more or less. They are perfect if you are staying in Venice for just a weekend, but If you have more time and you don't want to miss a thing, you should take advantage of the Venezia Unica City Pass.
Venezia Unica city Pass is a all-in-one pass that you can use for transportations and attractions. You can personalize your card, according to your plans, including a day-ticket to the islands.
What to see on Burano Island
Burano is, probably, the most famous Venetian Island. Its laces and its colorful houses are known all over the world.
Burano is a little treasure in the Venetian lagoon and the laces you can buy here are true pieces of art that you won't find anywhere else.
Don't miss to visit the Lace Museum, take a picture to the pending belltower and try a typical "Bussolà" (Burano's cookie).
What to see on Murano Island
Murano is the island of the glass art, you have probably heard about the well-known Murano Glass already.
On this island you can visit the Glass Museum and see with your own eyes Glass Masters at work. They can model glass as if it was clay, it is really astonishing.
You can also step by the Church of Santa Maria e San Donato and the Church of St. Peter Martyr.
What to see on Torcello Island
According to the origin of Venice, Torcello island was the first place where Venetians, escaping from the barbarian invasions, settled down.
For centuries, Torcello island was the center of all commercial activities. Without Torcello, Venice would not have existed.
Devil's Bridge is definitely a thing you cannot miss on the island. This bridge is related to several legends, all of them tell about a deal with the Devil in exchange of something.
The main attractions on the island are two old churches: the Cathedral of Santa Maria Assunta, the Church of Santa Fosca. The Cathedral shows the signs of the passing time, but it still beautiful and decorated with nice mosaics.
There is also the Museum of Torcello which preserves medieval and modern works of art and archaeological finds, taken from the surrounding region.
Last but not least, the so-called Throne of Attila, an ancient stone chair that actually has nothing to do with the king of the Huns, since it was placed there 100 years after his death.