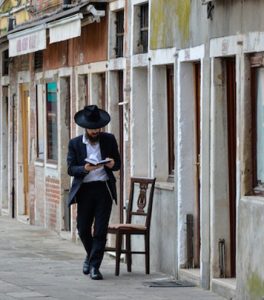 Right behind one of the most known streets in Venice, Strada Nuova, there is an area that seems to be living apart from the rest; the Jewish Ghetto. Starting from Hotel Arcadia, walking down two  or three  "calle" (street), you can  easily reach the Jewish Ghetto. The easiest way to get there from the hotel is going to Ponte delle Guglie and turning right, walking along the canal and turning right again, at Sotoportego San Giovanni. Before stepping into this world, we suggest you stop for a minute and have a look at the two sides of the sotoportego.  Look around and you will see the old hinges of the doors, which were used to close the ghetto area after the sunset. From the moment the doors close, nobody could get in or get out. Passing through this portico, you are definitely entering the Jewish Ghetto.
What does "ghetto" mean?
The word "ghetto", that is commonly used nowadays, is a Venetian word. It comes from "geto" (pouring), because before being a Jewish Ghetto, there was a foundry in that neighborhood. The pronunciation of "geto" became " ghetto" because the Jewish people weren't able to say it with the Venetian accent.
Discovering the Jewish Ghetto
Let's go on with our tour and start discovering this fascinating world. Follow Calle del Forno till the end, then turn right into Calle del Ghetto Vecchio. Crossing the bridge, you will be in the oldest part of the Jewish Ghetto, the oldest in all Europe. If you pay attention to the buildings you will notice that they have more floors and are taller than the Venetian houses. . Are you wondering why? The reason is simple. The priority here was to create more apartments to accommodate the higher concentration of people in a small area.
Five of the  nine synagogues are still used  by the Jewish community, who  have been keeping its traditions for 500 years. You can visit  three of the  five synagogues. Do you want to know how to recognize them? Look at the windows and count: the buildings with  five windows in a row are the synagogues! In the Ghetto there is also the Jewish Museum.
Proceeding on Calle del Ghetto Vecchio you will reach Campo Ghetto Novo, a  small and quiet square. The Ghetto Novo – "the new ghetto" – was created in 1541 to face the growing number of Jewish coming to Venice. In 1663, Venetians had to expand the ghetto area again, creating the Ghetto Nuovissimo – "the newest ghetto".
Sit down on a bench and enjoy the people walking around. Try some traditional Jewish sweets, such as the Hamantaschen or the Rugelach.
The Ghetto is not a typical tourist area, making it unlike many other areas in Venice, enjoy it!