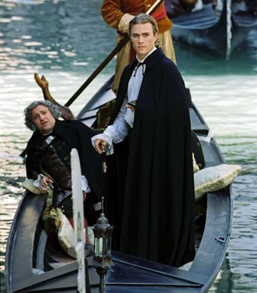 Venice is certainly one of the most cinematic cities in the planet, in fact, a great number of movies have been shooted here. Some of them tell about its glorious times and some others celebrate its traditions and its romantic side.  Here's a list of 6 movies filmed in Venice, we recommend you to watch, before your journey starts. Once in Venice, looking for those places, where all these films were shooted, can be an adventurous way to discover the city.
The Italian Job
We have already talked about this movie in a previous article about the Venetian locations, where The Italian Job was shooted. One of the most spectacular scenes is a thrilling boat chase along Venice's canals.
Casino Royale
Everyone has seen a 007 movie at least once. Casino Royale is one of the latest, where Daniel Craig, in the role of the most famous secret agent in the world, arrives in Venice to solve a case.
The Merchant of Venice
If you know Shakespeare, you know about his passion for Italy and its cities. Romeo and Juliet takes place in Verona, The Merchant of Venice, instead, in Venice. It's a story of love, loyalty, and justice. It's a play about a risky deal between a Jewish usurer and a Venetian merchant. 
Casanova (2005)
The story of a great lover and writer: Giacomo Casanova. This movie is entirely set in Venice and shows well how life was lived at Serenissima time.  
The tourist
Angelina Jolie and Johnny Depp are the two protagonists of The Tourist, a movie about mistaken identities and deep love.
Even if it didn't receive good reviews, it's worth it to see several glimpses of Venice and some of its palaces' interiors.
Indiana Jones and the last crusade
Just a few parts of this movie was filmed in Venice, but nevertheless memorable ones. Follow the steps of Indiana Jones until Campo San Barnaba and find out the sewer cover from where the professor comes out.