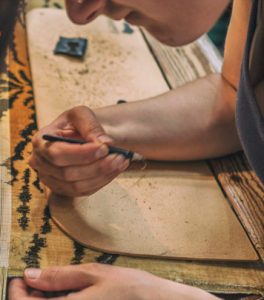 Mask, glass artworks, refined fabrics… this list might go on forever. Venice has still several artisans boutiques you should pay a visit to during your stay, which remind of its previous commercial power.
We would like to show and suggest you some of the most iconic and beautiful boutiques in Venice, that will make you lose in a world most of the people ignore.
Bottega del Tintoretto
You certainly have heard about one of the greatest Venetian artists, Jacopo Robusti, called Tintoretto. He was born in Venice, in Cannaregio, right behind the Fondamenta della Misericordia. His palace is now the headquarters of Bottega del Tintoretto, a graphic studio where you can learn the traditional techniques of paintings and lithography.
Design and painting courses are organized every year.
Address: Cannaregio, 3400, 30121 Venezia
Riccardo Guaraldi Liutaio Venezia
Have you ever listened to Vivaldi's Four Seasons? The red priest, as he used to be called for his red hair, used to play violin in theaters and churches, in fact, Venice was pretty famous in the industry of instruments at the time.
Riccardo Guaraldi is a talented lutist who's bringing on the ancient art of making string instruments. It's boutique is located near the Basilica of San Giovanni e Paolo, not far from our hotel.
Address: Castello, 6282, Corte Botera, 30122 Venezia
Tessitura Luigi Bevilacqua
Venice wasn't the capital of fashion during the Serenissima Republic, but it had a point about refined fabrics. At Tessitura Luigi Bevilacqua, a Venetian fabrics manufacturer, you can see 18th-century looms with you own eyes and learn more about about the traditional and centenary techniques, which made Venice famous for its fabrics around the world.
You can reach it in only 12 minutes from our hotel.
Address: S. Croce, 1320, 30135 Venezia
Mauro Vianello
We have already suggested you to visit a furnace in Murano to appreciate the difficult art of blowing glass, but if you don't have enough time for a boat tour to the main Venetian islands, you can step by Mauro Vianello's boutique.
Mauro is an artist who learnt how to create glass masterpieces when he was just a boy. His boutique is located in the Sestiere of Santa Croce and you can walk in to observe him while he's creating one of this fascinating artworks.
Address: Santa Croce 2251, Calle dei Morti
Ca' del Sol
Another artisans boutique in Venice you should step by is Ca' del Sol, where you can see how the famous Venetian masks are created. In this small workshop, a group of artisans make new masks everyday. You can find the well-known bauta, the real Venetian mask or those of Arlecchino, Pulcinella and many more.
Address: Castello, 4964, 30100 Venezia