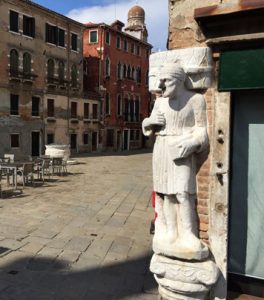 You're a traveler who wants to see and discover the secret gems of Venice. Visiting the classical and most famous attractions only is not your cup of tea. You are looking for all those quirky things to do and hidden places find out, this is your way to know and experience a city, and Venice is definitely a reality where you can satisfy this deep curiosity.
If you've already read our article about why staying in Cannaregio district, you probably know it's one of the quietest sestieri in Venice and it's also full of things to see and do.
Besides the most known attractions, such as Ca' d'Oro Palace or the Venice Casino – you can visit by following our self-guided tour – there are 4 secrets gems we would like you to see with your own eyes.
Scuola Grande della Misericordia
This is a huge building, hidden behind Strada Nuova, on the well-known Fondamenta della Misericordia. Scuola Grande della Misericordia used to be a "school", a place where charitable and religious organizations for the laity used to stay.
Nowadays, it hosts several exhibitions along the year.
The Bridge with no parapet
No far from the majestic Scuola Grande della Misericordia, there's a curious thing you should see: a bridge with no parapet.
Back in Serenissima's time, all bridges were without a parapet, but then they were all added because of security reasons. Today, there are just a couple of examples around the city and one of them is Ponte de Chiodo, in Fondamenta San Felice.
Campo dei Mori (Square of the Moors)
Another secret gem of Venice is a small square, which history is related to a legend. It's said that three brothers, silk and spice merchants, were turned to stone on account of their greed. In fact, they tried to cheat an old woman who wanted to buy some prestigious fabrics for her new shop, offering her some poor-quality clothes, instead. When the three brothers touched the money she gave them, they immediately became statues, those ones you can see in the Campo.
The Red Bench in the Ghetto of Venice
The last quirky thing, you must see in Venice, is located in the Venice Jewish Ghetto, right behind our hotel.
According to the collective imagination, Jews are usually seen as money-lenders or skillful merchants, William Shakespeare himself wrote a play with a Jewish character respecting these features: The Merchant of Venice.
In Campo del Ghetto Nuovo you can still admire the sign of the Red Bank, Banco Rosso, where you could bind an object in exchange for a cash loan. It has recently opened to the public, so you can stop by for a quick visit.