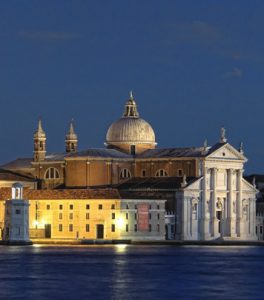 There's an island in the Venetian lagoon that has the privilege to sit right in front of St. Mark's Square, every day. San Giorgio Maggiore is the island we are talking about, a little paradise a few people know.
Why visiting San Giorgio Maggiore
Being located right in front of the Doge's Palace, San Giorgio Maggiore island is an iconic place. Thousands of pictures have been taken here, with the Church of San Giorgio Maggiore as background, and now are filling several albums of memories.
But, San Giorgio Maggiore can't only be admired from St. Mark's Square. In fact, to get the most of it, you should go on the island and discover all its secrets.
You definitely have to visit the church of San Giorgio Maggiore and the monastery.
Inside the church, you'll see paintings by Jacopo Tintoretto, Domenico Tintoretto, Palma il Giovane, Matteo Ponzone and many others.
The famous architect Palladio was the one who built this beautiful church.
Next to the church, you can visit the monastery. Over the centuries it became a theological, cultural and artistic center of primary importance in Europe. Today is an oasis of peace, a piece of paradise.
Don't let your vertigos win and climb the bell tower of San Giorgio for a view you'll never have anywhere else. The inner cloister is amazing. The ticket costs 6 euros and includes the church.
And, before leaving the island, why not getting lost in the Borges Labyrinth? We are kidding, you can only visit the labyrinth with a tour guide, but we are sure you'll have fun.
How to get to San Giorgio Maggiore island from Venice
Getting to San Giorgio Maggiore island from Venice is easier than you think. From the train station stop, take the vaporetto line 2 and get off at the island. It takes about 45 minutes.
If you are planning to reach the island from St. Mark's Square, don't worry, the vaporetto line 2 is stopping at San Zaccaria and it will take you to the island in less than 5 minutes.