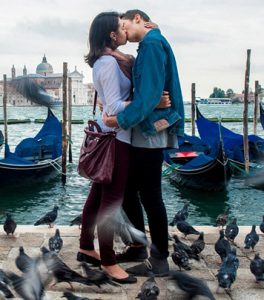 Venice is always Venice. It's the romantic city par excellence, the place that every couple should visit, at least once.
Venice is where lovers find their perfect moment.  
Venice is magic. It has the power of making you feel in the right place with the right person, every day.
Venice is the flawless backdrop for your romantic getaway.
If you want to make your vacation unique and surprise your partner with something truly unexpected, here's a list of special things to do in Venice.
A night out at Teatro La Fenice
You can go to St. Mark's Square or just walk around the infinite streets of Venice – which are both two nice things to do in a city like this – but give yourself the chance to live a one-in-a-million night at the Teatro La Fenice is definitely even better. Close your eyes and imagine yourself stepping into this ancient and gold Venetian theatre, holding your partner's hand. It's a feeling that you can't describe, you must live it.
Gondola ride for two
You can consider it a little bit too touristic, but taking a private gondola ride in Venice always worths it[link], especially if you think that it's something you can't do anywhere else.
You can judge the price of a ride, but remember that you're paying for something you're going to do once, only.
By the way, this is the most romantic way to propose.
A special dinner in a special place
A dinner is always a good idea to spend a couple of nice hours with your better half. A perfect dinner can turn into a nightmare if you don't know a good restaurant. Here's why we are always happy to suggest you the best places where to have a romantic dinner, with a  good atmosphere. Leave your partner having a shower up in your room and come to our reception: we will recommend you the best restaurant for you two.
Watch the sunset or the sunrise, hand in hand
Sunset in Venice is something you can't only see in a photo, you must see it personally. Lots of photographers come from all over the world to immortalize it, but the only two places where it lasts forever are in your heart and in your memories.
Read this article to discover the best places where to watch the sunset in Venice.
A kiss from the top
Have you ever given a kiss at almost 100 meters, surrounded by an unparalleled view? You can climb the St. Mark's tower bell till the top. Embrace your partner, look at this incredible city from above and make this moment even more special, kissing your other-half while the sun is shining in the sky.