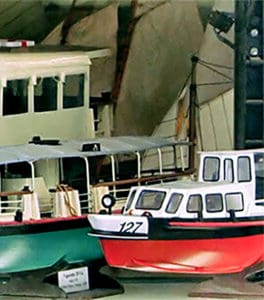 We could start this article about shopping in Venice with a simple list of souvenir shops located in the most famous areas of the city, but we won't.
If you're looking for a place to buy expensive clothes or accessories designed by some famous brands such as Gucci or Bottega Veneta, you can simply walk to St. Mark's Square, since the streets around the Piazza are all dedicated to this kind of shopping.
On the other hand, if you're looking for something unusual, and different from a typical souvenir like a magnet or a straw gondolier hat, here are some small but original shops you might want to pay a visit to.
Shopping in Venice: the model boat shop
As you probably know, the strength of Venice during the time of the Serenissima Republic was mainly based on its naval power. The Arsenale, where the boats were built, was like a fortress, and its duty was preserving Venetian secrets about the construction of its invincible vessels.
Now, the time of glory has passed, and the secrets have all been revealed, but you can still feel the emotion of creating a Venetian ship by yourself – just buy a model at Gilberto Penzo's shop, called Venice Boats.
If you're not a fan of ancient galleons, you can opt for something easier like a vaporetto or a gondola instead. Gilberto will help you choose the right boat for you, or for the lucky person who will receive this wonderful gift.
Address: Calle Seconda dei Saoneri, 2691, 30125 Venezia VE
Buy something to help people live a new life
This shop is really unusual, since it sells bags and other things like wallets or document cases made by the prisoners in Santa Maria Maggiore, Venice's penitentiary. Everything you find here is unique, since each product is handmade and there's no machine that can make a copy of it. Buying a souvenir here means bringing home a one-of-a-kind object that nobody else can have and show. Moreover, you're respecting and helping the environment, because everything is made by using cast-off advertising banners and PVC truck tarps.
Have you ever thought that doing some shopping in Venice could be a way to actually do something good for other people?
Address: Fondamenta Frari, 2559, 30125 Venezia VE
A book is always a good gift to bring home
There are several famous bookbinders in Venice, mainly because of the history of our city, which shows Venice as the center of typography for several years in the past.
Legatoria Polliero is one of the many bookbinders in Venice, where you can find a handmade notebook, created according to the tradition of ancient Venetian bookbinders.
The smell you will experience here, at the Ebrù shop or at Olbi Paolo's "Bottega" (other two bookbinders in Venice) is something you'll remember forever, the scent of paper with a twist of leather.
Do you want something really Venetian as a souvenir? A bookbinder is the right place to find it.
Legatoria Polliero Address: Calle del Scaleter, 2995, 30125 Venezia VE
Ebrù Shop Address: Campo Santo Stefano, 347, 30124 Venezia VE
Olbi Paolo's Shop Address: Address: 3253/A, Dorsoduro, Venezia, VE 30123
Take home a piece of Venice Carnival
Venice is full of souvenirs shops selling masks, but most of them are low-quality ones. If you want to take home the best souvenir that will really remind you of Venice and its spirit, you should definitely opt for a mask – but a real, traditional one!
Ca' Macana is a good place to go, a laboratory and mask shop, where masks are created by hand and you can try to make one yourself, too.
The truth is that what you find in this shop can only be bought here, because not every mask is sold online through their website. Would you really want to miss the chance to take a unique Venetian piece of art to your place?
Address: Dorsoduro, 3172, 30123 Venezia VE