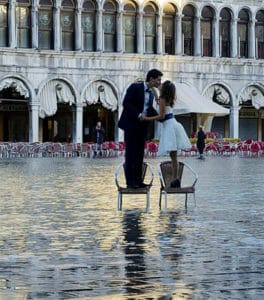 Despite all the romantic but boring things you can do on Valentine's Day in Venice, there are many other more unusual things you can plan, to make your stay with your partner really unforgettable.
We love to be part of our guests' plan to surprise their partners, helping them organize the best Valentine's Day ever, so here are a couple of ideas we have to make that day really special.
We would like to surprise your better half with something unexpected, something more than a bottle of wine and a bunch of flowers in your room at your arrival – even though we'd be more than happy to do that too! It's always pleasant to receive such a surprise at the beginning of a romantic weekend. Here's what we thought.
A romantic dinner in a Venetian palace with live music 
This will definitely not be your run-of-the-mill dinner, it will be "the" dinner.
Imagine you two sitting at a table, sipping a glass of white wine, surrounded by shining Murano glass chandeliers and colored frescoes, while a small orchestra is playing Jazz. Isn't it the perfect setting? Your partner will probably expect you to book a romantic place for dinner on Valentine's Day, so… do you think there's anything more romantic than this?
Our "I Love You" special package
As we said before, having your partner find a bunch of flowers and some chocolates in your room upon your arrival is always a good idea, but what about adding some more romanticism? We created this "I Love You" package not just for Valentine's Day, but for any day of the year because we know how important the time you'll spend here is.
If you're interested in surprising your better half with more than a bottle of wine, just visit our "special offers" section.
A night out at La Fenice Theatre, the Venice opera house
If you want an 'old style' night out, or you both love opera, maybe you can think about surprising your partner with tickets for La Fenice Theatre.
Be sure to bring the right clothes, according to the dress code at this legendary Venice opera house, tell your partner to pack something smart for the occasion.
There's no need to say what kind of occasion will be, just say it will be thrilling.
If you need any help to reserve your seats, we will be happy to book them for you.
A private photo shoot to have a memory of your Valentine's Day in Venice
Venice is the perfect setting for a photo shoot, especially a romantic one. You can take your own pictures while visiting the city, but in most of them, you won't be the only people in it. Instead, in a private photo shoot, you will be the protagonists.
It will be a nice way to create a memory about you and your significant other, celebrating Valentine's Day in the most romantic city in the world, don't you think?
These are just some suggestions to help you live the best Valentine's Day of your life in Venice – an unusual, original, classy and very, very romantic experience. This will be one of those holidays you will never forget.