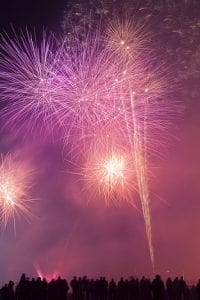 The Festa del Redentore is an important event that takes place in Venice and celebrates the end of the plague of 16th century. From that time on, the Festa del Redentore has been celebrating every year with amazing fireworks.
If you want to live Venice during this festival, you have to book your stay during the weekend of the third Saturday of July.
What is the Festa del Redentore
As we said, the Festa del Redentore is a feast that reminds about the end of a terrible plague that affected the whole city in 1576.
The Doge Alvise I Mocenigo, who was in charge at the time, promised to built a wonderful church to thank God if the plague ended. And this is actually what happened.
After having killed about 50.000 people, including the famous painter Tiziano Vecellio, the plague finally ended and the church started to be built.
The Redentore church is located on the Giudecca island and, the weekend of the fest, can be reached through a temporary bridge, built with boats.
Venetians care a lot about this feat and they make a pilgrimage to the church, every year.
How Venetians celebrate the Festa del Redentore
On the third Saturday of July, you will see all Venetians decorating their boats with colorful garlands and preparing food for the evening.
The appointment for the night show is in Bacino S. Marco, where all the decorated boats take place one next to the other and get ready for the fireworks.
You will see people sharing food and having fun from boat to boat. The Redentore feast is a special moment, where everyone forgets about problems and want to share his happiness with the world.
The best places to view the Redentore fireworks
If you have the chance to book a ticket for a party on a boat, the Bacino S. Marco is the best place ever to view the Redentore fireworks. But if you don't have a boat or you cannot find a ticket for boat party, you can still find a place to view the fireworks from the island.
Riva degli Schiavoni is the first choice to watch fireworks on Redentore Day, since it's just in front of the Bacino S. Marco. Get yourself ready to stand for a while.
Giudecca Island is where the Redentore church is located. Along the promenade, Venetians prepare their night positioning tables and chairs to have dinner with friends and view the fireworks. You can stand behind them and see the show from there.
Punta della Dogana is absolutely one of the best places to view the Redentore fireworks for free, because you are right in front of the place where the fireworks are actually launched.