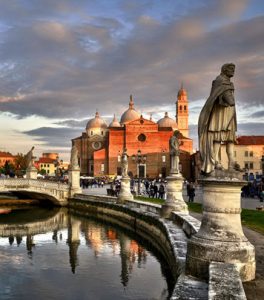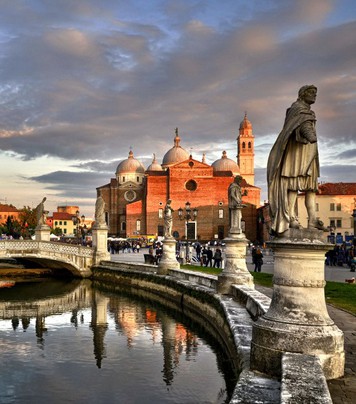 Did you know that you can reach several beautiful places near Venice taking a one-hour (or two) train ride? Venice is a beautiful city, with plenty of things to see, but if you have more than one day and you have already planned a boat tour around the three main Venetian island, you might think about taking a train and discover its surroundings.
Furthermore, our hotel is only 5 minutes from the train station.
Here are 5 day-trips from Venice by train that you can easily insert in your vacation plan.
Day-trip from Venice to Padua by train
With a 30-minute train ride, you can reach the city of Padua, which is famous for its centenarian university and for the unique Scrovegni Chapel. Lots of important Venetian people dealt with Padua for different reasons, Casanova, for example, graduated here, as well Elena Lucrezia Cornaroas the very first woman in the history of the whole world. Don't forget to visit the Basilica of Saint Anthony and the marvelous Prato della Valle square.
Day-trip from Venice to Treviso by train
The city of Treviso is a little jewel, surrounded by Venetian walls and crossed by canals. The train from Venice to Treviso takes less than 40 minutes and it's quite frequent. What to see in Treviso? Don't miss Piazza dei Signori, the extremely suggestive Buranelli Canal, the peculiar Fountain of Tits and the majestic San Nicolò church.
Day-trip from Venice to Verona by train
Shakespeare loved this city so much that he set one of his play here: Romeo and Juliet. Getting to Verona from Venice by train takes about one and half hour, definitely a day trip you should consider. If you want to visit the places connected with the romantic story of Romeo and Juliet, you must go to Juliet's house and Romeo's house. Then you should visit the fascinating Arena and the beautiful church of Santa Anastasia.There is almost a train every hour from Venice to Verona.
Day-trip from Venice to Ferrara by train
Ferrara is well known as the city of bicycles since it's full of cycle lanes. We suggest you take a bike as soon as you get off the train, in order to get the most of your day trip, since the train from Venice to Ferrara usually takes one and half hour or two. A must-see thing is the Este Castle, a well-preserved medieval castle in the center of Ferrara. One of its towers have recently been opened to the public after a long and meticulous restoration, you can now climb it up and enjoy a breathtaking view above Ferrara.
Day-trip from Venice to Trieste by train
If you don't mind taking a train for 2 hours and a half, you can go visit Trieste, the windy city. Be ready to see impressive things here, such as Piazza dell'Unità d'Italia, where the famous Caffè degli Specchi, one of the most historical Cafes in Trieste, is located. Don't forget to get a picture to the Fountain of the four continents.  Behind Piazza dell'Unità d'Italia there's a Roman theater that we suggest you visit.