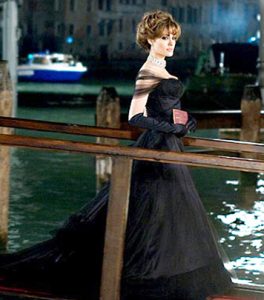 Many movies were filmed in Venice, one of these is The Tourist with Angelina Jolie and Johnny Depp. But, where exactly was The Tourist filmed? In this article, we will find out all the movie locations of The Tourist, in Venice. Then, you'll be able to create your own itinerary throughout the city and discover personally all the places where the film was shooted.
Venezia Santa Lucia, the train station
Even if the first part of the movie is set in Paris, all the rest takes place in Venice. During the first scene, Frank arrives in Venice by train and feel lost, when Elise approaches him on a motorboat and offers him a ride.
Palazzo Pisani Moretta
Elise and Frank reach the Hotel Daniel, as we can read on the external curtains, in reality, that is the entrance of Palazzo Pisani Moretta. Even the view from the balcony isn't from the Hotel Danieli since the Rialto Bridge is not visible from St. MArk's Basin, where the hotel is actually located.

Peggy Guggenheim Collection
The romantic restaurant where Elise and Frank have their first dinner is located on the floating platform facing the Peggy Guggenheim Collection building.
Rialto Market
During the chase, Frank walks on the roofs of several houses, reaching the famous lodge of the Rialto Market.
Wearing a pajama, he jumps down the lodge, falling right on a stand. We recommend you to spend a morning here to discover a piece of Venetian history.
Biblioteca Nazionale Marciana
The office of the Italian police is inside the beautiful Marciana library, in St. Mark's Square. You can recognize it from the view of the Doge's palace behind Frank
Scuola Grande di Santa Maria della Misericordia
This ancient building is located off the beaten path, but it deserves a visit for the beautiful frescos it has inside, at least.
In The Tourist, this is the location where the ball feast takes places.
Arsenale di Venezia
The heart of the naval power of Venice, the Arsenal, represents the Interpol's headquarters in The Tourist. Here, Venice used to built its unsinkable ships in secret. Inside the Arsenal area, there's also the Naval Museum.