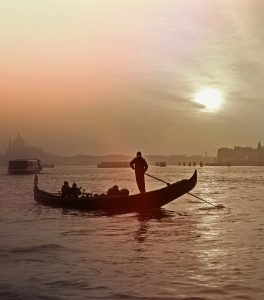 Venice is probably the most romantic city in the world and you are not wrong if you are thinking about proposing here.
Venice can be crowded, but you can still find out some romantic places where to spend an unforgettable night with your better half.
Here's a list of the 5 most romantic places to propose in Venice, we hope you'll find the perfect one for you.

Punta della Dogana
There isn't a better place to propose in Venice than Punta della Dogana. This place is located right in front of St. Mark's Basic, close to one of the most fabulous churches in Venice: Basilica of Santa Maria della Salute.
Punta della Dogana used to be Venice's custom point during the Serenissima Republic, but now, the custom building is an art museum.
Usually not many people come here, except on the Redentore day, since it's the perfect spot to watch fireworks.
Here you'll find the tranquility and the privacy you're looking for that special moment.

On a gondola
We have abundantly talked about the reasons why you should take a private gondola ride and proposing is surely one of them.
Ask the gondolier to be brought to some hidden corners, better if at sunset, where nobody can disturb you. Venice is the perfect setting for proposing, especially if it's seen by the water.
Don't worry about the gondolier, he knows how to be discreet, like his forefathers used to be in the past, during a romantic gondola ride.

On a bridge
Another romantic place where to propose in Venice is on a bridge. Venice is full of bridges – more than 400 if we have to be precise – but we suggest you to avoid the most known ones.
In the Cannaregio district, where our hotel is, there are a lot of tiny and hidden bridges where you can stop by, without risking to be interrupted.

In a Campo
Campo is the world we use to identify those little squares you find all around Venice. Some of these "campi" are out of the common touristic paths, such as the one called Campiello del Remer.
This picturesque square faces the Grand Canal and when the restaurant Taverna al Remer is closed, on Wednesday, it's completely isolated and silent. You'll have the chance to propose while looking at the magnificent Rialto Bridge, from a unique point of view.
Burano Island
The last of the 5 most romantic places to propose in Venice is Burano island. Burano is one of the main three islands of the lagoon and it's famous for its lace artworks and for its colors. Proposing on Burano island would be like doing it surrounded by a rainbow.