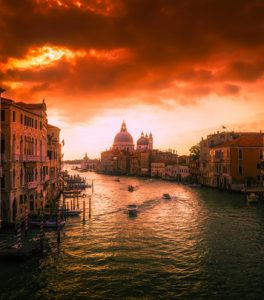 If you want to see the sunrise, the perfect place to see it is in St. Mark's Square. But if you want to watch the sunset in Venice, there are a lot of places where you should go. Even if this city is astonishing and fascinating at every corner, here's a list of the best places to watch the sunset in Venice.
Accademia Bridge
Millions of tourists every year take – at least – a photo to the splendid Madonna della Salute church, from this wooden bridge. And not only because it's a great spot itself, but mostly because the sunset here is something you won't see anywhere else.
By the way, you should consider that it's one of the most known attractions in Venice and it can be packed at sunset, taking away all the romanticism. Watching sunset here is unique, but if you are willing to propose to your partner, probably you would like some more privacy. That's why we wrote an article about the most romantic places to propose, in Venice.
Fondamenta delle Zattere
Less frequented, Fondamenta delle Zattere is a long promenade, facing Giudecca island and the picturesque Mulino Stucky.
From here you have a 180-degree view: St. Mark's Basin on a side and a slice of the Venetian lagoon, on the other.
Embrace your partner tenderly and watch the sunset coming up and coloring Venice.
Giudecca Island
Another point of view. Crossing the Giudecca Canal, with a vaporetto departing from Fondamenta delle Zattere, you get to Giudecca Island. Here you have the most incredible view of the Venetian Lagoon. On your right side, you have the magnificent St Mark's Square and on the other the color of the sun reflecting on the water.
Rialto bridge
The symbol of Venice, Rialto Bridge. Here, thousands of tourists go up and down its stairs, taking photos on each side, every day. But, at sunset, you can have the most beautiful view of Venice's Grand Canal. Check the clock and get there in time, to take your place and watch the show.
Murano island
Murano is one of the three main islands of Venice, famous for its centenary glass art. This island is perfectly located and its position makes Murano one of the best places to watch the sunset in Venice.
You can easily reach it taking a vaporetto and if you haven't your ticket yet, you can buy it at the reception.