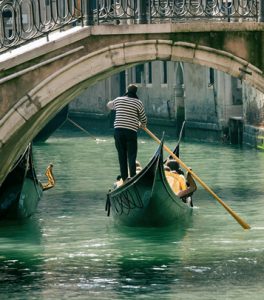 You might consider it a tourist thing, but we all know that taking a private gondola ride in Venice is something that worths it.
If you think about Venice, probably the first image that comes up in your mind is about a gondola cutting through a quiet canal. Gondolas were the main transport used by Venetian during the Serenissima Republic and taking a private gondola ride is, somehow, a way to remember how Venice was like in its period of maximum splendour.
Being rocked on a gondola is an amazing experience. You can feel the water accompanying the gondola along an invisible path, you can fill your eyes with beauties, which are only visible from the venetian canals.
How much does a private gondola ride in Venice cost?
You might have heard a lot of stories about how expensive a private gondola ride could be, but let us say something: you might only be here once, do you really want to miss this experience?
The city of Venice sets official rates for a gondola ride: 80 euros for 40 minutes, before 7pm and 100 euros after 7pm.
A gondola can take up to six people, this means that, if you are a group of friends, you can divide the cost of a ride.
Reasons why taking a private gondola ride worths it
Venice can be really crowded in high season. Sometimes, finding a tranquil place where to spend a romantic moment with your partner can be really difficult, especially during summer.
Taking a gondola ride is a way to escape packed streets and experience a new side of Venice: the one on the water.
If you are traveling as a couple, it could be the perfect way to end your romantic holiday in Venice.
But, apart from that, taking a private gondola can give you the chance to know more about the city, discovering places you only saw in a movie such as Casino Royale or learning some curious stories about Casanova and other famous Venetian historical figures.
The gondolier will take you down some narrow and quiet canals, that people cannot reach on foot.
But, taking a private gondola ride isn't only a thing for couples. If you are traveling with your family or with some friends, it can be an occasion to spend some times together, experiencing something you won't find anywhere else.
Hermann Hesse, a famous German-born Swiss poet, after taking a gondola, said "it has the beauty of a dream, and is an integral part of the city of idleness, love and music".