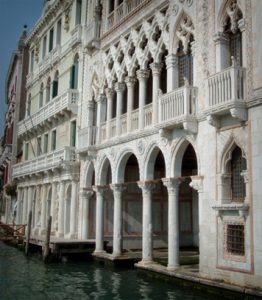 We have already suggest you an idea for visiting Venice in one day, but we thought that you might want to experience the city with a self guided walking tour. The main purpose of this article is giving you a self guided walking tour in Cannaregio, departing from our hotel. Since St. Mark's Square and the other most known attractions of Venice are located in the center of Venice, the area of Cannaregio is often put aside. But it has a lot of interesting things to visit and we will discover them with this self guided walking tour.
Venice Casino and the Wagner's house
Starting from our hotel, the Venice is Casino  is just a few steps away. We are not inviting you to play at the casino, if you don't wish so, but rather to visit the Wagner's apartment. The apartment is open on Tuesdays and Sundays morning and on thursday afternoon. Remember to book your visit at least a day in advance.
Ca' d'Oro Palace
Our next stop, during this self guided walking tour in Cannaregio, is Ca' d'Oro Palace. Its name, which means "Golden palace", gives testimony of the original appearance of the palace. Its facade was probably decorated with gold.
The ticket costs 8,50 euros per person and you can pre-book it online through the official website.
Madonna dell'Orto Church
Leaving Ca' d'Oro Palace behind you, you have to turn left and then right, to reach our third attraction: Madonna dell'Orto Church.
This beautiful church is located in Fondamenta Contarini and it was erected in the mid-14th century. Its name is related to a legend, which tells the story of a the sculptor Giovanni De Santi and his miraculous statue of the Virgin Mary.
Fondamenta della Misericordia
Taking Calle Loredan and then Calle del Forno, you reach Fondamenta della Misericordia. This is the perfect place to drink a spritz and eat a typical Venetian "cicchetto".
The Jewish Ghetto
The last stop of this self guided walking tour in Venice is the Jewish Ghetto. The ghetto of Venice was the first one to be established in all Europe. It's divided in Ghetto Nuovo and Ghetto Vecchio and there are three synagogues you can visit.
This self guided walking tour in Cannaregio we created for you takes about 30 minutes, without considering the time you will spend at every attractions. Walking in Venice is the best way to discover its most hidden and beautiful places. Don't prevent yourself to get lost and try to consider this itinerary as a flexible guide. We are sure you will enjoy it!