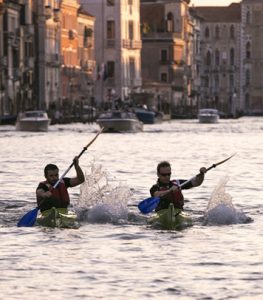 Everyone in the world knows that Venice is the city with no car, where you have to walk or take a boat. But there's another way to see Venice under a new and original point of view: renting a kayak.
Try to think about how Venice used to be. A city where the main transportations were gondolas and rowing boats. Life was lived mostly on the water and kayaking in Venice can be a good way to get yourself into a world that now you can partially see.
We would like to suggest you an experience that you won't forget, something suitable for everyone, even the non-sports ones.
Kayaking in Venice: a new way of seeing the city
Most of the time, streets in Venice are crowded, but canals don't. You can easily go around with a rented kayak, exploring the most hidden and impressive Venetian canals and spots.
Seeing Venice from a kayak is completely different from seeing it from the bridges and streets.
What you are going to see is the authentic Venice. You will see the original facade of the palace, the one facing the canal, where the main door used to be. You will see romantic spots and peaceful corners, where the only sounds you could hear are the oar of a gondola, dipping the water and its gondoliere saying "Ohé" to make you aware of his presence.
If you are lucky and there is no high tide, you can even go literally under a church and discover its base.
You can also watch the sunset and see the sun touching the lagoon, from some unusual points.
Where to find a kayak rental in Venice
We know that it could be your first time on a kayak, but you don't have to worry about it.
If you are not able to paddle there will be a guide who can teach you how to do it and stay with you for the entire tour.
Moreover, tour guides know Venice and its history very well. They will bring you to those places tourists usually don't go, since they are reachable by kayaks only.
There are 4 places in Venice where you can rent a kayak, two of them are close to our hotel.  
Real Venetian Kayak and BV Kayak in Venice are located in the same district of Hotel Arcadia, Venice by Water has its headquarter near Rialto Bridge and Venice Kayak has its own on Certosa Island.
All of the organize different kinds of tours, that you can check and book directly on their websites.