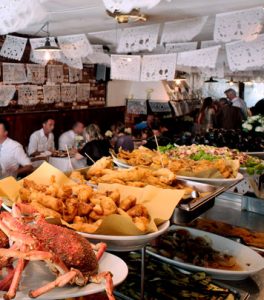 There is something Venetians love to do at the end of a working day: the happy hour.
As you may know the most famous aperitif in Venice is Spritz, a wine-based cocktail corrected with some Aperol.
If you want to eat like a local in Venice and taste a bit of its wine without spending a fortune, you have to go to a "bacaro".
Bacaro is the world that Venetians use to identify those little bars in Venice, where you can have some typical "cicchetti" (tastings) and a glass of wine for a couple of euros. We would like to suggest you a sort of cicchetti pub crawl, a bacaro tour idea that you can use during your stay to experience the real and local side of Venice.
Not far from our hotel there is a place where you can find a lot of these bars, and it's called Fondamenta della Misericordia. You get there in less than 5 minutes on foot.
Al timon
This is one of the most famous bacari in this area, mostly because is the only one that have a boat where you can sit on, right in front of its entrance.
Birreria Zanon
Not far from the Al Timon bar there is the Birreria Zanon. It looks like a pub, but you can tell that is a real bacaro from the delicacies on the counter.
La Vecia Papussa
Following the Fondamenta you will find La Vecia Papussa, a new bar but with typical dishes as well. Every thursday you can enjoy some live music too.
Il Paradiso Perduto
Along the Fondamenta there is another famous bar in Venice, always full of people, where you can order a plate of baccalà mantecato or some polenta with black squids and a glass of white wine.
Vino vero
Last but not least, the Vino Vero bar, a recent acquisition for the Fondamenta della Misericordia. If you are looking for something unusual and refined, but still typical, this is the right place.
Don't be worried if you cannot find a place where to sit during your bacaro your, usually during the happy hour Venetians stand with a spritz on a hand and a yummy cichetto on the other.
These are the bacari you can find on Fondamenta della Misericordia, but if you want to go a little bit far from our hotel, you can find some of the best bars in Venice near Rialto and on the other side of the bridge.