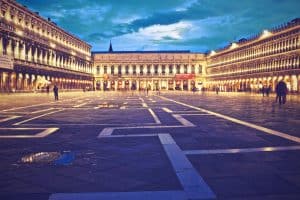 Venice at night is magic. Most of the people have gone, the city is embraced by a romantic silence and wrapped up in an almost surreal atmosphere.  There are a lot of things you can do in Venice at night, even if the majority of the people thinks the contrary, only because this city is quite different from all the others in the world.  In this article, we would like to suggest you some things you can do at nighttime in Venice to experience this city all-around.
Roll the dice at the Casino of Venice
Ca' Vendramin Calergi is the site of Venice Casino. This palace is located just a few steps from our hotel and it is one of the most beautiful building on the Grand Canal.  
As the majority of Venetian palaces, Ca' Vendramin Calergi is related to a story.
In 1589, the nobleman Vettor Calergi bought the palace from Guglielmo Gonzaga, duke of Mantua, because of his marriage with Isabella Gritti. They had only one daughter: Marina.
Marina, in turn, had 3 sons with her husband Vincenzo Grimani. These three sons weren't good people, in fact, they killed Francesco Querini Stampalia, their arch enemy, in a wing of this palace, which doesn't exist anymore.
The palace is also the home of the Wagner museum and the casino is one of the oldest casinos in Europe.
You will find a really professional staff and the dress code requires men to wear a jacket, that you can also be hired in the casino itself.
Fenice theatre
This theatre used to be one of the top opera houses in Europe till the 19th century. The one you can see now is the perfect copy of the original one, that was destroyed by fire in 1996.
The theatre is decorated in the typical style of the eighteenth century, once you enter you will find yourself back in time.
Nowadays you can assist to different kind of performances: operas, ballet and more.
Walking around
You will appreciate the quiet and the silence Venice has at night. You can get lost among its street, watch the sunset from one of the most romantic bridges [link] with your partner or have a glass of wine with a "chiccetto" in a bacaro.
Read also: Eat like a local in venice: a Bacaro tour idea (link)
Piazza San Marco, in particular, is amazing at night, do you know that it was used to be called the Europe's Ballroom?
Walking in Venice at nighttime is safe, but keep your eyes open anyway.