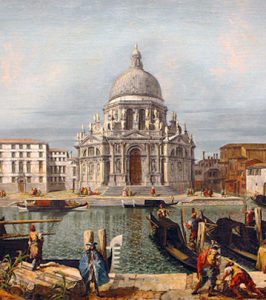 Venice has several traditional feasts during the year, but the most cherished one is The Feast-day of the Madonna della Salute.  This religious feast is related to a terrible event that happened between 1630 e il 1631. A dreadful plague ravaged the city of Venice, killing thousands of people. On October 22, 1630, the Doge promised to build a majestic church, if the city would have survived the epidemic. After a few weeks from a participated procession addressed to the Virgin Mary, the plague started to slow down. The Doge of Venice, seeing that the city was recovering from those two terrible years of plague, ordered to thank the Virgin Mary with a procession, every year. From that moment on, all Venetians go on a pilgrimage to the Basilica della Madonna della Salute, to remember that tragic event and the grace she gave them.
How we celebrate the Feast-day of the Madonna della Salute, nowadays.
As the Redentore feast, the Feast-day of the Madonna della Salute is celebrated annually on November 21.  A temporary votive bridge of boats is built on the Grand Canal, which connects the area of San Moisè and S. Maria del Giglio, to let people easily reach the Basilica. The pilgrimage to the Madonna della Salute Church ends with a personal prayer and lighting a candle. Together with a sincere religious sentiment, there's the willing of spending a nice day with family and friends, eating sweets and buying colorful and original balloons.  If you walk in the proximity of Madonna della Salute church on November 21, you'll see a lot of stands selling yummy fritters and other candies. Children love this feast, but they perfectly know the reason why it exists, and it's still so important for all Venetians.

You don't have to be a believer to take part in this event; it's something that touches everyone. The name of the Basilica wasn't randomly chosen, in fact, it means Our Lady of Health. Don't be afraid to participate in this important celebration, but do it with respect. Enter the church and live an unforgettable moment, surrounded by thousands of candles and the perfume of wax. Observe the beautiful and unique Madonna Nikopeia, on the main altar, and admire the statue representing the plage, escaping from the Virgin Mary. On the other side, another statue is praying the Lady. That represents our city, Venice.