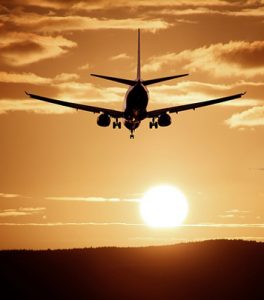 Venice has two airports, an international one called Marco Polo Airport and a smaller one, called Canova airport, located near the city of Treviso. The former is the closest to the city and the more frequented, the latter is a little bit more far, but it's the one where Ryanair flights land. There are different option to get to Venice from both airports and it's up to you to choose the one that fits more for you.
How to get to Venice from Venice Marco Polo Airport 
Marco Polo Airport is located about 13 kilometers from the city center, and you can get to Venice by boat, taxi or bus.
Using a private water taxi is probably the fastest way to get to Venice, but it is also the most expensive one. Taking a water taxi is also the best option to get exactly where your hotel is located or, at least, really close and the best way to get in contact with the real Venetian life.  A less expensive alternative to the water taxi is taking the Alilaguna public transport.
From the airport the Alilaguna takes about 45 minutes to our hotel, in fact, you have to get off at the Guglie stop, which is only 2 minutes from Hotel Arcadia.
The cheapest way to get to Venice city center from the airport is by bus. There are two bus companies that are doing this service: ACTV and ATVO.  The first one is a typical public city bus and takes about 35 minutes to get to the city.
ATVO, instead, is a private bus company and it takes about 20 minutes to arrive in Venice.
A one way ticket to Venice with both companies costs about 8 euros per person.
How to get to Venice from Treviso Airport
The easiest way to get to Venice from Treviso Airport is by bus. The are two bus companies offering this service: ATVO and Barzi Bus Service.  ATVO buses require 70 minutes to cover the distance between Treviso airport and the city center of Venice, whereas the Barzi Bus Service only takes 40 minutes.
The one-way ticket has the same fare for both companies (12 euros) but the former stops at Piazzale Roma and the latter, instead, at the close parking island of Tronchetto.
It doesn't matter which kind of transport you choose, the important thing is that you take the one that fits more to your needs and let you start your trip in Venice in the best way. We are waiting for you!