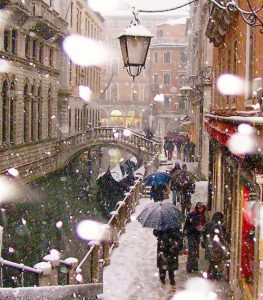 Venice in summer is a crowded city, Venice in winter is totally another thing. The city becomes quiet and silent, and the fog, that characterizes this period of the year, makes it quite magic and mysterious.  If you are afraid that winter isn't a good time for visiting the floating city, you'll soon change your mind.  Of course, strolling around its streets won't be pleasant as in summer, because of the cold temperature, but we're sure you'll find what to do in Venice in winter, among the things we suggest you here. 
Experience the high tide in Venice  
As you know, winter is when high tide comes, partially flooding the city. It's an incredible and natural phenomenon, Venetians had learnt how to live with.  Visiting Venice while the water is covering its street can be thrilling, but dangerous at the same time. If you want to know more about this phenomenon, we recommend you to read this article.
Visit all museums
Trying to escape cold can be the perfect excuse to visit many museums in Venice. The city is plenty of them. You can start with our selection of the top 5 museums in Venice [link] or choose those you're more interested in.
Enjoy a night at the Venice Casino
Why close yourself inside your hotel room during a cold and foggy night? The Venice Casino is just a few steps away from our hotel and we can give you a free entry. You can try your luck or just admire one of the most beautiful palaces in Venice, from the inside.
Sip a Venetian hot chocolate
Chocolate arrived in Venice at the beginning of the XVII century. At that time the first "botteghe del caffè" – coffee shops – were also serving hot chocolate during winter time. Casanova himself used to drink it, primarily because of its aphrodisiac features.
Warm up at La Fenice Theatre
Another way to spend a freezing night in Venice is attending a opera, inside the most beautiful theatre you've never seen.  Every year, La Fenice Theatre offers a rich program of operas and other kinds of shows and plays.  We are sure that you'll find something you'd love to see.
By the way, visiting Venice in winter is not so prohibited. Besides all the things we listed here, you can basically do the same thing you do in summer, maybe except eating a good gelato, even if there are a lot of ice-cream parlors where you can taste one.