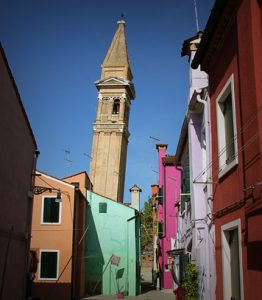 Imagine a place full of colors. A island in the Venetian lagoon where the time goes slow. This is Burano Island.
The island of Burano is situated near Torcello island, at the northern side of the lagoon, and it's really well connected with Venice, by public transports. Burano is famous mainly for laces and its wonderful colors, but there are several other things to see and do on this island.
What to see in Burano island 
Burano will astonish you from the first sight with its bright colors and its narrow streets. We won't be surprise if you take a picture of it, right after dropping off the vaporetto! Burano is a dreamland on earth.
Apart from its colorful houses, Burano has a lot of things to see.
Lace museum
As we said, Burano is famous for its centuries-old tradition of lace-making, it's not a case, there's an entire museum dedicated to it.
The Lace museum is located in a gothic palace, where the ancient lace school used to be.
The visits start with a English subtitled video showing the story of the lace tradition and ends with a rich collection of laces, from the 16th century to the 20th century.
Church of St. Martin and the leaning tower of Burano
The Church of St. Martin is located in Piazza Galuppi, the main square of the island, and houses a painting by Gian Battista Tiepolo.
Behind the church you will notice its leaning tower, but don't worry, it won't fall.
Bepi's House
There's a house in Burano, hidden among narrow streets, that is really something you have to see. It's colorful too, but not as all the others.
The wall and even the door are decorated with geometrical shapes. It's worth a picture.
The Pescarìa Vecia
If Venice has is own fish market near Rialto bridge, Burano has its own, called Pescarìa Vecia (literally "old fish market").
Burano was the island of fisherman, this is also the reason why the houses are shining with different colors, since they could be seen from the lagoon even through the fog.
Remigio Barbaro's statues
Remigio Barbaro was a sculptor, he was born in Burano in 1911 and spent all his life on this island.
His greatest wish was to turn his house into a museum, but it hasn't happened yet, even if a lot of his masterpieces are still there.
You can admire two of his sculptures at Piazza Galuppi and near the the actv ferry stop.
How to get to Burano island from Venice
Burano is connected to Venice by vaporetto line 12, departing from Fondamente Nuove. It takes about 45 minutes to get there.