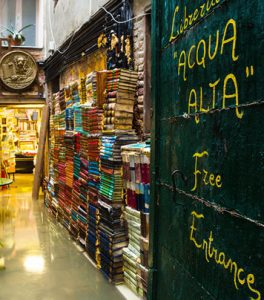 There's a place in Venice, like no other: Libreria Acqua Alta. This is the most original bookshop you could find in the floating city, hidden in a street called Calle Longa S. Maria Formosa.
It's not easy to discover it if you don't know where to go, but losing your bearings and find yourself in front a magic world like the one you can live inside the Acqua Alta bookshop is totally worth it.
Why visiting Acqua Alta bookshop
Everyone in Venice knows about the Acqua Alta bookshop, and it's not a case. Imagine a world apart from everything, where you can lose and find yourself at the same time, among thousands of books.
Once you enter Acqua Alta, the first impression you probably get is a sense of confusion, but don't be deceived by appearances.
Books seem to be put randomly on shelves and boxes, but they are not. The owner knows exactly where every book is, you just need to ask for some help.
Gondolas and bathtub are part of the furniture, in fact, they don't only help the owner collect the books, but also prevent them to be touched by water, during high tide. The name Acqua Alta, in fact, means high tide.
If you experience Venice in winter, you'll see that many ground floors get flooded. This is what happens to Acqua Alta too.
A cat will probably say hello to you once in, or maybe more than one. Cats here have found their perfect home, with a lot of narrow refugees where to hide.
Make your way out to the bookshop and discover the amazing little court, in the backyard.
Here, a book-staircase is inviting you to climb it up and see what's on the other side of the wall.
Venice's beauty is at every corner and one of these corners is right here, behind the wall.
Acqua Alta is a place which will remain in your heart, this is why you should visit it.
How to get to Acqua Alta bookshop from Hotel Arcadia
As we said at the beginning of this article, finding Acqua Alta is not so easy. Leaving our hotel, turn on your left and go straight until you find the Santi Giovanni e Paolo Basilica. Then, take Calle Vesier, on the right side of the campo, and go on until Calle Pinelli, you'll see Acqua Alta bookshop on your left.