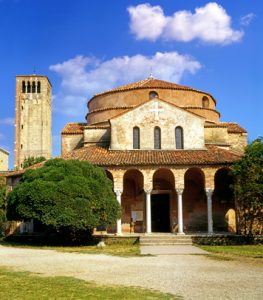 Torcello is one of the most known island in the Venice lagoon, but few people know that it was the first Venetian colony before Venice was born. Torcello was the first place Venetians called home, since the Hunns' invasion forced them to escape from Altino.
We suggest you to take a boat tour to the three main islands of Venice [link], but if you don't have time to explore all of them, you can only visit Torcello, there are a lot of things to do here!
The Devil's Bridge
This bridge was built in the 15th century and the origin of its name is still uncertain, even if there are a couple of legends that explains why it was called in this way. The peculiarity of this bridge is that it has no parapets, in fact, originally all the bridges in Venice was like this one.
Torcello Cathedral
The Cathedral of Santa Maria Assunta is the basilica of Torcello. This is an example of Venetian-Byzantine architecture and is one of the most ancient building in the whole region of Veneto.
Inside the church you can see several Byzantin mosaics, the earliest remaining ones in the Venice area.
Santa Fosca
A few steps from the Cathedral there's another church called Santa Fosca. The internals of the church aren't full of mosaics as the basilica, but there's a nice octagonal portico all around it, which deserves a visit.
The Archaeological Museum of Torcello
The Archaeological Museum is tiny but rich of remains and fragments, organized in two parts: the archaeological section and the medieval-modern one. The first part is located inside a single room in the Archive Palace and shows a rich collection of pots, bronze objects and sculptures, dated back to the 11th-12th century.
The second one, instead, takes place in the Council Palace and tells the story of Torcello island itself, during its most flourishing period.
Attila's throne
We have mentioned that Torcello was born after the Hunns' invasion, but this is not related to the so-called Attila's throne that you find on the island. This stone chair dates back to the 5th century and it was used by the governor of the island, during council meetings and when administering justice.
How to get to Torcello Island from Venice
If you are not going to Torcello Island with an organized boat tour, you have just another way to get there.
Unfortunately there is no direct line from Venice to Torcello, but you can still take the vaporetto line 4 from Fondamente Nove to Burano island and then change to line 9. You can easily reach Fondamente Nove from our hotel with a 20 minutes walk.