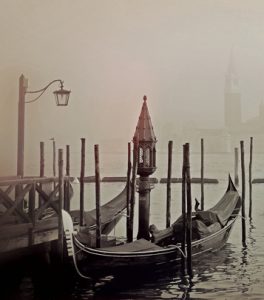 At first sight the gondola only looks like an elegant vessel, but the truth is that it hides a lot of secrets, behind its shape.
Taking a private gondola ride is an experience we suggest you to live, not only because it is something typical, but because you'll see with your own eyes its beauty and its hidden symbols.
The length of a gondola
You might have noticed that each gondola hasn't a symmetrical shape, in fact, it leans to one side. In this way the gondola balanced the weight of its gondolier. Back in centuries the gondola wasn't as long as it is today, mainly because the prow became bigger too.
The symbols of the prow
The metal decoration in front of the gondola is called "fero" (literally "iron") and its shape is not random. In fact, each part of the "fero" refers to something related to the history of Venice.
Its shape reminds of an "S", for example, is echoing the curves of the Grand Canal, whereas the six prongs sticking out the front represent the six districts of Venice, called "sestieri".  Specifically, the six sestieri are: Dorsoduro, Cannaregio, San Polo, Santa Croce, San Marco and Castello. The backward prong represents the island of Giudecca and those little decorations between the forward prongs stand for the islands of Burano, Murano and Torcello. 
The upper part of the "fero" recalls the shape of the Doge's cap, also called the Ducal Horn.
Finally, the little arch between the upper part of the fero and the first froward prong represent the Rialto bridge.
Where the gondolas are built
The gondolas are custom made, based on the physique of the gondolier who commission them.
During the Serenissima Republic there were several places where the gondolas were built, these places are called "squero".
Nowadays you can still see and visit a squero, the one of San Trovaso, located near Fondamenta delle Zattere.
You'll notice the unusual shape of the house next to the squero, in fact, it looks like a lodge. The reason why this house looks completely different from all the other palaces in Venice is that originally the "squerarioli", as Venetians call those people who actually build gondolas, were from Cadore, a mountainous area in the Veneto region.
See how many things gondolas hide?