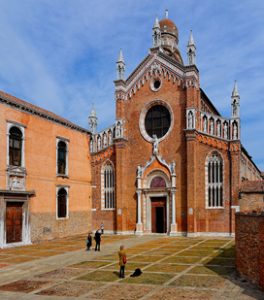 If you tried to count how many churches exist in Venice, you would probably lose count. There are more than 250 churches in Venice and each of them has a story to tell, but we are not expecting you to visit them all! Even if choosing the top 5 churches to visit in Venice can be really hard, we tried to select those we love most.
St. Mark's Basilica
How not include St. Mark's Basilica among the top 5 churches to see in Venice, since it's one of the most known and beautiful attraction in the city. Visiting the St. Mark's Basilica is free and for this reason the queue is usually quite long, but fast. If you don't have time to queue, you can buy a ticket to skip the line, that you can easily purchase online. Inside the Basilica, you'll be encircled by hundreds of mosaics. The ceiling is shining, thanks to all the gold Venetians used to decorate it.
Basilica of Santa Maria Gloriosa dei Frari
Usually called "Frari" from Venetians, this is the second biggest church in Venice. You can literally lose yourself, observing all the painting preserved inside, such as the Assumption, painted by Tiziano Vecellio.This is the church where the burial monument dedicated to the great neo-classical sculptor Antonio Canova is located. It's composed by a huge pyramid, symbol of Great Architect of the Universe.
Madonna dell'Orto Church
We have already mentioned this church in the article we wrote about a self-guided tour in Cannaregio. Madonna dell'Orto (Madonna of the Orchard) isn't the original name of the church, in fact, it used to be called St. Cristoforo Church, but when the miraculous statue of the Virgin Mary, done by Giovanni de Santi, arrived at the church, the church itself took the name the people gave it. The priest of Santa Maria Formosa church commissioned to Giovanni de Santi a statue of the Virgin Mary. What happened is that the priest didn't like the sculpture and Giovanni decided to keep it in his garden. After a while his neighbours noticed that the Virgin Mary statue emanated light. When the bishop of Venice heard about the story of the miraculous statue, he decided that Giovanni's sculpture had to be places in the nearby orchard.
Basilica of Santa Maria della Salute
A wonderful church to remember an important, but also terrible, event. The Basilica of Santa Maria della Salute, also known as "Salute", was built to thank Virgin Mary for having sent the plague away from Venice. Inside the church you'll surely notice an unusual choice for that time: a Black Madonna painting.
Basilica of San Giovanni e Paolo
This church had a great importance during the Serenissima Republic, since it was the burial place of Doges and Nobles. The Basilica of San Giovanni e Paolo is also one of the largest of Venice.