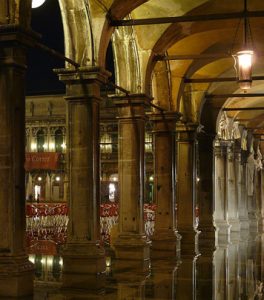 Visiting a city like Venice can be stressful, if you think that more than 2 millions of people come to visit it every year.
Streets and bridges are packed, taking the right vaporetto can be the hardest thing in you life and finding a good place where to eat a yummy traditional dish could turn into a real adventure. That's why we create this survival kit to let you visit Venice with no stress.
Check transportation lines and timetable in advance
Venice has no car, but boats, even for public transportation. The vaporetto is like a bus, it can take you almost everywhere in the city, but only if you catch the right one. While you are planning your trip to Venice, don't forget to check the ACTV web page to know more about public transportations lines and timetables. If you are going to visit some of the Venice Lagoon Islands , you should check the Venezia Unica website too and learn more about the Venice's official City Pass.
Walk on the right side of the street
The majority of the streets in Venice are narrow and sometimes it could be difficult to pass through them, especially if there are people coming from the opposite side. In order to avoid a really stressful moment and keep stuck in the middle of a calle, try to walk on its right side. People coming from the opposite side, should do the same.
Wear comfortable shoes
We always suggest our guest to walk around Venice, wearing a pair of comfortable shoes. Even if walking in Venice is the best way to discover the city and to see something you won't notice from a vaporetto, it can turn into a nightmare if you are wearing heels. Be sure to pack a pair of sneakers into your bag.
Don't stop on bridges
We perfectly know that a bridge-view of Venice is something that must be in a photo, but try to not stay there for too long. Bridges connect the hundreds of island on which Venice is built, which means that they always need to be clear, to let people walk.
If you are coming in November, bring or buy a pair of rain boots
Another thing that will help you to visit Venice with no stress, especially between November and January, is wearing a pair of rain boots to save your feet from high tide. High tide can ruin your holiday in Venice if you don't have rain boots, forcing you to stay at our hotel for hours. Be prevident, check online or download the Hi!Tide Venice app before coming to Venice.