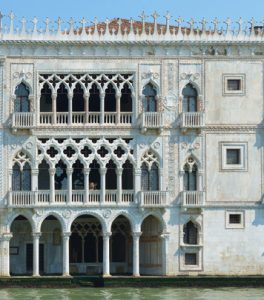 Venice is the perfect place where to take a walking tour, especially because it's a city built on water and if you don't want to take a vaporetto or a gondola ride, walking is the only other way to get the most of it. Here's a virtual and self-guided walking tour in Venice, we are always happy to suggest to our guests.
Jewish Ghetto
Starting from you hotel in Strada Nuova, you can easily reach the most ancient European Jewish Ghetto.
Here, you can visit one of the three opened synagogues and the Jewish Museum, but you also can just walk around and take some photos of the uncountable glimpses on your way to our next stop.
We recommend you to read "A day in the Jewish Ghetto", a fully dedicated article about this unusual place.
Ca' D'oro
This amazing palace is our next stop. Its name means "Golden Palace" because its facade used to be covered with gold. Can you image how beautiful this palace must have been from the Grand Canal?
Inside you can admire a rich collection of furniture, paintings, medals, tapestries, bronzes and sculptures.
Rialto Bridge
To get to one of the most iconic symbols of Venice, Rialto Bridge, we suggest you to take the so-called traghetto. Right next to Ca' D'oro there's a place called Stazio Santa Sofia, where you can take a gondola to cross the canal.
In a minute you'll be walking around the stands of Rialto Market, just few steps away from Rialto Bridge.
St Mark's Square
We left the best for the end: St. Mark's Square. Here you can indulge your whims and visit the Doge's Palace, the St. Mark's Basilica and even the Clock tower.
However, why not climbing the bell tower too? Or spending an hour visiting the ancient Marciana library?
We know, it's difficult to decide what to see and what not, since everything worths it. But you can still come back here the day after.
If you feel like having a nice cocktail in a traditional Cafe after this walking tour in Venice, a few steps away from St. Mark's Square there's the famous Harry's Bar.
Enjoy it!