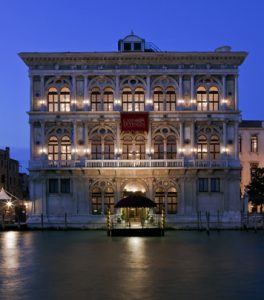 Even if Las Vegas is the first city with the higher concentration of casinos in the world, Venice is the one that holds the oldest one in Europe: Ca' Vendramin Calergi, the Venice casino. The first Casino in Venice was open in 1638, but it was located in Saint Moisé, next to the current Hotel Bauer. The Ridotto of S. Moisé (as it was called) was closed in 1774, after a Council of Ten's decision. Only in the 50s the Venice Casino moved to the present location, Ca' Vendramin Calergi.
The history of the Venice Casino
The impressive building that houses the Venice Casino is actually one of the most magnificent palaces facing the Grand Canal.
It was designed in the late 15th century by Mauro Codussi, upon a Loredan family's request, and its construction began in 1481 and ended in 1509. Unfortunately the Loredan's had to sell the palace in 1581 and in 1589 it was bought by Vettor Calergi, who was about to marry Isabella Gritti. The newlywed couple only had a daughter, Marina, who married Vincenzo Grimani. The new owners of the Ca' Vendramin Calergi decided to enlarge the right wind of the building, covering part of the garden.
The three sons of Marina and Vincenzo had such a bad attitude that they killed Francesco Querini Stampalia.
The Serenissima government discovered the murder and banish the three brothers from Venice.
A curiosity about the Venice Casino
On the main facade, the one on the Grand Canal, you may notice a weird writing: Non nobis Domine, non nobis, sed nomini tuo da gloriam (Not unto us, not unto us O Lord, but unto thy name let the glory be given). This latin writing is often associated with the Templars, since it was the beginning part of a psalm that was used as a prayer of thanksgiving and expression of humility, during the Crusades.
How to get to the Venice Casino from our hotel
Getting to the Venice Casino from our hotel is easy, you can reach it in 5 minutes walking. Once out of the hotel, follow Rio Terà Leonardo till a crossroads, then turn right into rio Terà del Cristo and the on turn left on Rio Terà de la Chiesa. The Venice Casino is just a few steps ahead.
Venice Casino dress code
The dress Code is really important at the Casino, especially for men. Men must wear a jacket, but if you don't have it, you can still hire one  for free at the Casino. If you are going to play slot machines only, the jacket is not mandatory, but you still have to wear respectfully.
Women hasn't such a strict code to follow, but it is important not to wear casual clothes, such as short skirts.