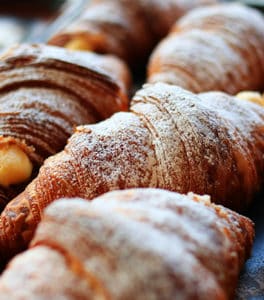 As you know, having a good breakfast is really important to get the day off to a good start, especially if you are about to walk around a lot – and in Venice, you certainly are!
Where is the best to have a nice, traditional breakfast in Venice? Of course, our first suggestion is trying our breakfast on the first floor, where every morning you'll find a rich buffet, with any kind of food you might want to start your day. If you feel like having breakfast in your room, don't hesitate to ask us about our room service.
Do you want to know more about our breakfast? Our Tripadvisor profile is full of reviews about it!
If you would like to have breakfast in a Venetian patisserie instead, here's our list of those we love the most, but be aware that Italians never have eggs in the morning, so don't expect to find any – instead, you'll findmany, many sweets!
Breakfast in Venice: Pasticceria Tonolo
Let's start with the most famous patisserie in town, Pasticceria Tonolo, mostly frequented by students since it's located near Ca' Foscari University in Dorsoduro district.
Open since 1953, it sweetens the mornings of Venetians with its fantastic chantilly cream and fruit pastries, but if you have the chance to be in Venice for Carnival, you can't miss their fritters, they are probably the best in the whole city.
Address: Calle S. Pantalon, 3764, 30123 Venice
Breakfast in Venice: Pasticceria Rosa Salva
Rosa Salva is probably the oldest patisserie in Venice, in fact, it has been open since 1870 and it is an institution among Venetians. Unlike Pasticceria Tonolo, its ambiance is more elegant and classy, but with a touch of modernity. If you can't make it for breakfast, try visiting for lunch for one of their yummy savory dishes, or after lunch for a sweet coffee break!
Pasticceria Rosa Salva has two shops in Venice – the closest one to us is in Campo San Giovanni e Paolo. You can reach it in less than 20 minutes from our hotel.
Address: Calle Fiubera e Mercerie, 950, 30124 or Calle Giazzo, 6779, 30122 Venice
Breakfast in Venice: Pasticceria Nobile
Another patisserie in Cannaregio district that you should have breakfast in is Pasticceria Nobile, only 1 minute from our hotel. Besides all the classics, such as croissants, krapfens, and shortcrust pastries, here we suggest trying the traditional Pan del Doge, a sweet pastry usually filled with dried fruit. Nowadays, you can find the Pan del Doge with chocolate or jam too.
Address: Cannaregio, 1818, 30121 Venice
Breakfast in Venice: Pasticceria Dal Mas
If you're arriving in Venice by train, you'll certainly notice this patisserie on your way to our hotel – in fact, it's located only a couple of minutes from the Santa Lucia train station.
As soon as you get there, you'll see there are two entrances: which one should you choose? It depends on what you are after – one gets leads you to a chocolate paradise, the other one is to breakfast heaven. In fact, Pasticceria dal Mas is not just a simple patisserie, but also a chocolate shop.
Address: Rio Terà Lista di Spagna, 149, 30121 Venice
Breakfast in Venice: Pasticceria Ballarin
Last but not least, Pasticceria Ballarin is definitely another place to have a tasty breakfast in Venice. The only thing here is that it's located in such a crowded street near Rialto Bridge that you probably won't notice it.
There's no room to sit here, exactly as all patisseries were in the past, so be patient and queue up at the counter, but once there don't miss to try one of its cakes, they are fabulous!
Address: San Giovanni Grisostomo, 5794, 30121 Venice