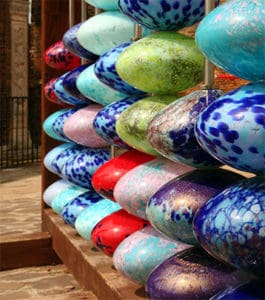 If you'd like to know how Murano glass is made, visiting a glass factory is the best way to do it. As you probably know, the art of blowing glass dates back thousands of years, Venetians are still so proud of it – and so are we. It's not by chance that we placed an original Murano glass sink in every bathroom of our hotel rooms, and that a giant Murano glass chandelier is hanging from the ceiling of our breakfast room.
We deeply love and respect this ancient and unique art, and we do our best to defend real Murano glass from imitations every day.
Let's see why visiting a glass factory in Venice (precisely on Murano island) will be worth your time, and it will probably become something you'll remember forever.
Attend a glassblowing demonstration
Visiting a glass factory on Murano island is not just something you must do once in Venice – it's your chance to attend a glassblowing demonstration to see with your own eyes how Murano glass has been made for centuries, and how it's still made today.
Moreover, booking a tour of a glass factory in Murano will give you the chance to see how a glass factory works, learning all the phases that involve the creation of a real Murano glass piece of art.
Learn about the history of glassblowing art
As we said, the art of glassblowing dates back centuries and, to be precise, there is evidence that Venetians have started working with glass since the 7th century, even though they became known for it only around the 12th century.
Originally, glass factories were also located in Venice, but then in 1291, they were all moved to Murano for security reasons to avoid any risk of fires.
Attending a visit to a glass factory you'll learn many other curiosities and stories about how Venetians became known for their glassblowing skills – for example, did you know that Murano glass masters were the only category of people who could marry a noblewoman, even if they weren't part of the Venetian aristocracy? That's a true story!
Have the chance to buy an original Murano glass artwork where it's made
Nowadays, you can buy Murano glass artworks even on the Internet, but could you compare it with buying a Murano glass piece of art directly in the place where it was made? It's like taking an authentic piece of Venice history home with you, that nobody can ever have because it's one of a kind. No piece is like another – you'll find out when you visit the Murano Glass Museum, and the uniqueness of each artwork is the real added value to your souvenir.
See something you won't see anywhere else in the world
It's not a secret that you won't see anything like this anywhere else in the world. Visiting a glass factory like the ones on Murano island is a thing you can only do here in Venice, and that will leave something special in your heart.
So if you're planning to attend a Venice island tour, make sure that it includes a visit to a glass factory and if not, don't hesitate to ask us for info, we will be happy to suggest where to go and which factory visit to live the best experience ever.