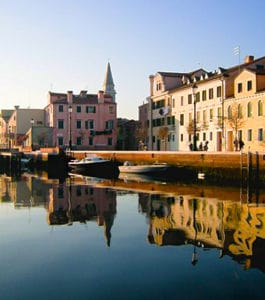 Venice Lido is an island of the Venetian lagoon, mainly known for hosting the Venice Film Festival every year and for being one of the few places where to go swimming in summer. In fact, Venice Lido is the closest beach from Venice's historic center and the only way to reach it is by vaporetto.
How far is Lido from Venice? It depends on where you take the vaporetto. For example, there's a quick line departing from Piazzale Roma, that takes you there in about 20 minutes. To know more about Venice City Pass and how public transport works, we suggest spending some time reading our blog, where you can find some useful information for your holiday in Venice.
But Lido island is not just about beaches and festivals, but also a place with a lot of things to do and see, especially if you're not staying in Venice just for a day or two.
So, here's our list of things to do on Venice Lido island in one day.
Alberoni beach: a natural paradise
If you're not interested in well-equipped beaches, you'll like this one. Alberoni is a clean and wild beach, where Venetians love to go in summer. It's a bit far from the Santa Elisabetta stop, where you the vaporetto will drop you off, but it's worth it, especially if you're looking for some silence and peace.
From Santa Elisabetta stop, you can take a bus and reach Alberoni beach through a pinewood, which is nice because you can meet different kinds of birds that otherwise you won't see.
Church Of San Nicolò Al Lido
San Nicolò al Lido is an important church on Lido island, particularly because it's the place where the famous Festa della Sensa – the marriage between Venice and the sea – ends. Moreover, this church houses part of St Nicholas' remains, patron saint of sailors.
Next to the church, there's also a monastery, dedicated to the same saint, dating back to the origins of Venice in the early Middle Ages. Another thing you can't miss here is the great cloister from the 16th century.
The Ancient Jewish Cemetery
In Cannaregio district, there's the Jewish ghetto, and the ancient Jewish Cemetery is located on Lido island, near San Nicolò church. If you would like to visit it, you can do it by appointment.
Discover Malamocco
Malamocco is a picturesque village, located in the southern part of Lido. Before the Serenissima Republic was born, Malamocco was the only settlement on the island, and for a long time, it was the original home of the Doge of Venice, then moved to the Doge's Palace – where we recommend attending the secret tour inside the palace. Here you can also visit Santa Maria Assunta church, which was originally dedicated to Madonna della Marina – Our Lady of the Sea – and dates back to the 12th century.
Is Venice Lido worth visiting?
The answer is: certainly yes! As you see, Venice Lido is not just a place to go sunbathing in summer, but an island full of things to do, including a long and relaxing walk along Viale Santa Maria Elisabetta, a street that crosses the island from the vaporetto stop to the beaches.
Last tip: if you'd like an unusual gondola ride, you can even ask the gondolier to take you all the way to Lido on the most beautiful and t<raditional Venetian boat, to enjoy the sunset above Venice.