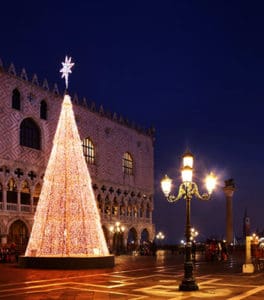 Christmas in Venice is something you should experience, at least once in your life.
The city changes, becoming full of lights and stalls selling a quantity and a variety of sweets you can't even imagine.
Christmas in Venice is a fairytale coming true, a place to get lost, admiring the decorations reflected on the canals. However, walking around the city surrounded by the typical Christmas atmosphere is not the only thing you can do in Venice during this period.
Winter in Venice can be hard, but don't let this be an excuse to spend all your time in your hotel room, and miss the chance to get the most out of the city.
Christmas in Venice: the perfect occasion to attend a Charity Concert
Around Christmas time, it's nice to think about doing something good for the less fortunate. Attending a Charity Concert, like those organized at La Fenice or at the Malibran Theatre, is an occasion to donate to charity and spend a nice time listening to good music.
Even in Mestre, there will be several free concerts in the main square, Piazza Ferretto, creating the right atmosphere to do some Christmas shopping among Christmas markets.
Warm you up with some traditional Venetian food
Venice at Christmas means having the chance to taste some sweets you can't find during the year, such as the Pandoro or Pinza.
Pandoro is a Christmas cake originally invented in Verona, that you can also find in Venice and in the whole of Northern Italy. Kids usually prefer it to Panettone, which is similar but it has raisins in the dough. Another sweet you can try is the so-called Pinza, a cake made with stale bread and raisin, that belongs to the Venetian farming tradition.
Don't forget to accompany these two cakes with a glass of red wine, as Venetians do!
Christmas lunch in a great restaurant
It might sound rather obvious, but having a good Christmas lunch is part of the experience. There are several restaurants in Venice that offer a special menu for the occasion, and we will be happy to indicate the best for you to spend a nice Christmas in Venice with your family or your partner.
Visiting a museum on Christmas Day? Why not!
Many museums remain open on Christmas Day because culture never goes on vacation! You can visit the Doge's Palace, Museo Correr, and Palazzo Fortuny from 11 am to 7 pm, including their temporary exhibitions.
Ca' Pesaro, Ca' Rezzonico and the Museum of Glass in Murano will be opened too, from 11 am to 5 pm.
It could definitely be a different and unusual way to live Christmas in Venice.
In addition to all these ideas, you could also read our article about the events in Venice at Christmas and New Year's Eve, maybe you'll find some proposals you might want to add to your Christmas-to-do-list.