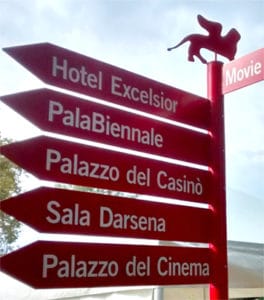 The Venice Film Festival is one of the most awaited events of the year in the Venetian Lagoon. This year marks its 76th edition, always organized by La Biennale di Venezia, on Lido Island.
As usual, the Venice Film Festival takes place between the end of August and the beginning of September – this year, the exact dates will be August 28th to September 7th.
Venice is a city of art, where many movies have taken place, and it's not by chance that this important event takes place on one of its islands.
The aim of the festival is promoting international cinema in all its forms through a spirit of freedom and dialogue, in order to support awareness of this art.
Every year, many of our guests come to Venice to participate to the Film Festival, this is why we decided to collect all the information about it in this article, giving a complete answer to the three most frequent questions we usually receive.
Where does the Venice film festival take place?
As we said, the Venice Film Festival is held on Lido island. Specifically, it takes place at the Palazzo del Cinema on Lungomare Marconi, built in 1937 for the fifth edition of the Festival. The building is composed of four main rooms: Sala Grande, Sala Darsena, Sala Zorzi and Sala Pasinetti.
The Sala Grande is where the main screenings and awards ceremonies of the Festival take place, the Sala Darsena is one of the newest and it is equipped with the most modern screening and audio technologies.
Where can I buy a ticket for the Venice Film Festival?
Usually, the price of the tickets and the tickets themselves are available online from August onwards, and you can buy yours directly from the Biennale official website.
How to get to the Venice Film Festival from our hotel
The only way to reach the Venice Film festival from our hotel is by boat, but you have several options to choose from.
If you're not in a hurry and you would like to see the most beautiful palace facing the Grand Canal while going to the festival, you can take vaporetto line 1 from the Venice Casino stop.
If you want to get to Lido island as fast as possible, we suggest taking line 5.1 from the Guglie stop, which is only 2 minutes away from our hotel. Otherwise, you can ask us to call a taxi for you.