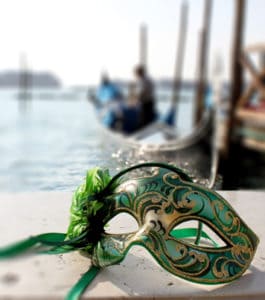 Venetian Carnival Masks are famous all over the world, and the majority of people visiting Venice go back home with at least one original Venice mask in their luggage.
In case you wonder why people love Venice Carnival Masks, it's simple – first of all, because they are extremely beautiful and unique, but also because of their history.
If you're curious, we have already written a post about the true history of Venice Carnival Mask, you can read it on our blog.
Most people do know that once in Venice they can buy a masquerade mask, but they don't usually know that they can also make their own Venetian Carnival Mask, in the same way the so-called mascareri (people who made masks in Venice) used to make them.
Where can you challenge yourself with the creation of your own mask? Let's have a look at a couple of places we usually recommend.
Where to make your own Venetian Carnival Mask
There are many places in Venice, mostly located in the districts of Dorsoduro and San Polo, where you can make your own Venetian Carnival Mask. Those we're listing today are the f handmade mask workshops we prefer.
La Bauta: probably one of the most famous handcrafted mask stores and workshops in Venice. It's located in Dorsoduro district, a few steps away from Campo San Barnaba, where Indiana Jones and the Last Crusade was filmed. You'll find it easily since a dummy wearing the traditional Plague Doctor costume is standing at the entrance.
Ca' Macana: this shop is located in Dorsoduro district too, and it's open since 1986 when the Venice Carnival was born again after almost two centuries of decline. Their name is well known because every mask they sell is handmade, and also because of their way of teaching how to make one – by telling the real history of Venetian masks.
Tragicomica: this atelier is located in San Polo district. Gualtiero Dall'Osto is the owner and he started his career studying at the Accademia di Belle Arti of Venice, and then he took part in stages of History and Technology of the Mask. His workshops last about 2 hours and during each lesson, he explains everything you need to know to make a perfect Venetian Carnival Mask to take home with you.
Read also: Artisans boutiques in Venice you should visit
How to make Venetian masks
Well, now you know where you can attend a mask-making workshop, but how is a Venetian mask made, exactly?
Traditional mask-makers craft a model from clay or stucco, which they use to create many masks. Once the clay of the plaster is ready, they start pressing wet paper pulp over it and let it dry for a while. When the paper finally gets dry, it keeps the shape of the clay and they can start cutting the holes for the eyes and – if desired – for the mouth. After that, they start painting it. This process is the one you'll follow in a mask-maker workshop like those we listed. Ready to make your own Venetian Carnival Mask?