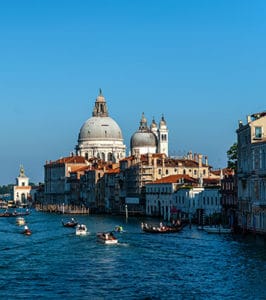 Venice is a small city in terms of dimensions, which can be tricky for those who are planning a visit here. You might think that it is nothing like New York, which in fact occupies an area of 783.8 km² (and Venice rises on an area of just 414.6 km²), but visiting Venice in one day isn't a good idea, and we'll tell you why.
It's not by chance that the average length of our guests' stay is around 3-4 days, since they know that Venice is such a unique city you can't plan to visit it in a single day, but if you don't really have time to stay longer, here's an article we wrote about the things you can do in a day in Venice.
Why you shouldn't visit Venice in a day
We are sure that once you step out of the train station, you'll instantly agree with us: Venice is a real treasure chest, full of preciousness that you physically can't see in a day only.
The first reason why you shouldn't visit Venice in a day lays in the fact that this city is an open-air museum: anywhere you look, you'll find something interesting and fascinating to see. There are too many things to do and see in Venice that an entire life won't be enough!
Another reason why you should spend more than a day in Venice is that you can't drive from one point of interest to another, but you have to reach them on foot or taking a vaporetto (remember to purchase you Venice City Card to get several discounts on transports and museums). As you can imagine, this takes much longer, and if you have just a day to visit Venice you need to consider the time you spend moving from one place to another.
Read also: Where to park in Venice
Venice is meant to be explored slowly, and this is certainly something you won't do in 24 hours. Getting lost is part of the game and there are infinite itineraries you can follow and create even by yourself, like our self-guided walking tour in Cannaregio district, where our hotel is located. Are you planning to see Burano and Murano island too? A day in Venice won't be enough unless you've been here before and you just want to dedicate the day to its best-known islands.
Then, if you're planning to enjoy a traditional gondola ride in Venice – which is worth it – consider taking it in the evening, when the sun is about to set, so you'll have the opportunity to see the Venice from its canals under the colors of the sunset.
So how many days should you stay in Venice?
It's hard to say, but we think that you should spend at least three days in Venice: one to get to know the city and visit it with no stress, one to see its main attractions and the last one to enjoy a Venice islands tour.
If you stay longer, you might like the idea of spending a day discovering a city near Venice. Here's an article we wrote with 5 day-trips from Venice by train you can take inspiration from. Then, if you would like to spend a day in the mountains, here's how to get from Venice to the Dolomites in a day.
Last but not least, remember that if you book your stay in advance, we have a special offer for you!