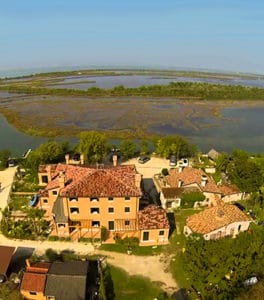 If you love being surrounded by nature, Lio Piccolo is the perfect place for a day trip out of Venice. Lio Piccolo is a small village, located in the northern part of the Venetian Lagoon, not too far from the city of Treporti. Its main characteristic is being immersed in a unique landscape, made of canals, islands and "valli" (fishing zones created during the Middle Ages). A scenic road starting in Treporti heads to the very end of Lio Piccolo, where there's a historic restaurant you can rest at.
What to see and do in Lio Piccolo
There are many things you can do and see in Lio Piccolo, especially if you love sports and history. The panoramic road we've just mentioned is ideal for a bike tour to discover the different species of animals living in this area. Along the road, there are many info boards describing what kind of animals you might see here, such as herons, cormorants, and black-winged stilts.
If you're not into sports, you can do some birdwatching, sitting on a chair and enjoying the sun. Talking about the sun, Lio Piccolo is also a good place to watch the sunset, coloring the lagoon.
If you love visiting historical places, Lio Piccolo won't disappoint you since it's one of the most ancient settlements of the Venetian lagoon. In fact, during the Roman Empire, it was an important seaport for the trade between the city of Altino and Lio Maggiore.
Lio Piccolo counts about 500 inhabitants, a small square and an old Armenian-style bell tower you can actually visit without a guide, leaving an offer at the entrance.
Our suggestion is to explore Lio Piccolo by bike, taking all the time you need to reach the end of the panoramic road. There's no rush, just pay attention to the cars that occasionally pass by.
Lio Piccolo: a day trip out of Venice to see pink flamingos
Among the animals which live in this unique area, there's a species you wouldn't expect to see here, in a day-trip out of Venice: pink flamingos.
As a matter of fact, a flock of pink flamingos actually chose Lio Piccolo's sandbars as their home a few years ago. It's not easy to see them, but if you pick the right season and you're there at the right moment, we can assure you that it's really worth it.
To be honest, these flamingos aren't as pink as you might think, but more white because of what they eat in the lagoon. Unfortunately, there are no shrimps or other organisms containing carotenoids (a kind of pigments) in this area, so their feathers don't color up, but they are still so beautifully elegant.
How to reach Lio Piccolo from Venice
Are you now curious to find out how to spend a day in Lio Piccolo? Here's how to get there. If you have your car parked inside one of the parking garages in Piazzale Roma (here's our article about parking in Venice), you can use it to reach Lio Piccolo. If you came to Venice by train or plane, instead, you can take a ferry from Fondamente Nove stop to Treporti, then you can rent a bike, book a bike tour, walk or take a taxi.
If you would like some other ideas for your day-trip out of Venice, we suggest reading our articles about a day-trip to Murano, Burano, and Torcello and 5 day-trips from Venice by train. In case you have some questions, don't forget that we are here for you.