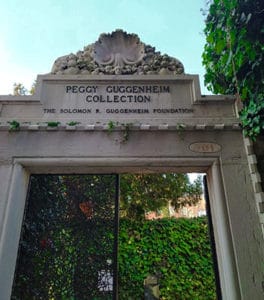 The Guggenheim Museum is certainly one of the top-5 museums to visit n Venice, not only because it showcases one of the best collections of Contemporary Art in town, but also for the unique building it's hosted in. In fact, if you notice, Ca' Venier dei Leoni – this is how this Venetian palazzo is called, has an unusual structure compared to all the other buildings facing the Grand Canal: it has just two floors.
It is believed that this palazzo should have been even more majestic than the one on the opposite side of the canal, owned by the Correr family, but something happened. Nobody knows exactly what was the reason why they interrupted its construction, maybe it was because of money, or maybe because the potent Correr family did what they could to prevent the Vernier from having had a higher and more sumptuous residence compared to theirs. Noble Venetian families used to do things out of spite, after all.
But let's discover what's there to see at the Guggenheim Museum in Venice and why it's worth visiting.
What to see at the Guggenheim Museum in Venice
First of all, there's a permanent exhibition, showcasingPeggy Guggenheim's personal collection. You'll find Cubism, Futurism, Metaphysical paintings, plus European abstraction, avant-garde sculpture, and many others, created by some of the greatest artists of the 20th century, such as Picasso, Braque, Duchamp, and Kandinsky.
This is obviously the heart of the museum, but there are other collections too, like the one of Hannelore B. and Rudolph B. Schulhof, which has been exhibited in the Guggenheim museum since 2012.
In the garden, you'll also find sculptures by Calder, Caro, Holzer, and other artists.
Then, of course, temporary exhibitions are held regularly.
Peggy Guggenheim Collection in Venice: tickets and available discounts
Tickets for the Peggy Guggenheim Collection in Venice are 15 euros per person, but if you're traveling with kids till age 9, their tickets will be free.
There is also a discount for people with CartaFreccia and a train ticket to Venice – in fact, they can access the museum with the 2×1 promotion.
If you want to find out more about discounts, we suggest visiting Peggy Guggenheim Museum's official website.
If you have already purchased or you're about to buy the Venezia Unica City Pass, you can buy the ticket for the Peggy Guggenheim Collection directly online.
Other useful tips for your trip to Venice
Not far from the Peggy Guggenheim Collection there's one of the most beautiful churches in Venice: The Madonna della Salute Church. This Basilica is very important for Venetians since it was built to thank the Virgin Mary for the end of a terrible plague epidemic. You can read more about it in the article we wrote about the Fest-day of the Madonna della Salute, in our blog.
Then, if you're still organizing your trip to Venice, here are some articles you might find interesting and useful:
Of course, if you need any suggestions or help in planning your Venice holiday, don't hesitate to contact us.