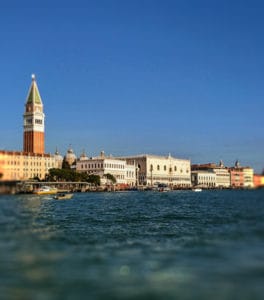 There's no doubt about the fact that Venice is worth visiting, but being such a fascinating and unique city, full of history, monuments, and ancient buildings, wondering what the best things to see are is absolutely normal – especially if you're visiting it for the first time.
Since the majority of our guests ask us about the best things to do in Venice, we decided to write this article to collect all the experiences we usually recommend. This means that you can easily organize your trip, and chose where to stay in Venice, according to your needs and the things you would like to see.
St Mark's Square and the Basilica
You've certainly seen thousands of pictures of the most famous square in the city and, in some way, you probably already know many things about it. But seeing St. Mark's Square in person will leave you speechless anyway. After all, it's not by chance that Napoleon used to call it "the finest drawing room in Europe".
St. Mark's Square has been the setting of many events for centuries, and even today it's one of the best places to watch the Redentore fireworks, and where the Flight of the Angel takes place during the Carnival of Venice. The most important sights here is St. Mark's Basilica, which used to be the Doge's private Chapel in the past.
Visiting the Basilica is free, but you need to allow enough time to queue up since there are always many people who want to see it. While you're waiting to admire it, you can discover some fun facts about St. Mark's Basilica in our blog.
The Doge's Palace
Not far from St. Mark's Square there's the Doge's Palace, where the chief magistrate and leader of Venice used to live. and administrate the Serenissima Republic. Visiting it is absolutely one of the best things to do in Venice during your stay, especially if you attend the secret tour of the Doge's Palace, which is more complete than the regular one. Moreover, interesting exhibitions often take place inside the Doge's Apartments.
The Bell Tower in St. Mark's Square
Let's spend a little bit more time in St. Mark's Square since there's another thing you won't miss: the Bell Tower. This isn't the original one, since it collapsed in the early 20th century, but it's the exact copy of it. On the other hand, the loggia – where the ticket office is located nowadays – is the one Sansovino projected in 1546. Despite the usual queue, Venice from above is a show you must enjoy.
The Bridge of Sighs
There are many bridges in Venice, more than 400 to be precise, but the Bridge of Sighs is certainly one of the most suggestive. It's located between the Doge's Palace and the Prison's building, facing St. Mark's Basin and you can only cross it if you visit the Doge's Palace. If you want to know more about this mysterious bridge, we invite you to read our blog post about its true story.
Rialto Bridge and Fish Market
One of the icons of Venice is certainly the Rialto bridge and the Fish Market of the same name. You can reach it easily from our hotel since it's just a gondola-ride away. If you go to Santa Sofia, you can reach a gondola ferry that will take you to Rialto in less than 2 minutes. If you want to buy a souvenir, this is the perfect place!
La Fenice Theatre
La Fenice Theatre is the Venice Opera House, an extraordinary place to enjoy an evening in of good music and passionate performances. Wondering what to wear? We have written a whole article about the dress code at the Venice Opera House, you can read on our blog.
The Venice Casino
Did you know that the oldest Casino in Europe is the one in Venice? It's located in Cannaregio district, not far from our hotel, inside the majestic Venetian palace called Ca' Vendramin Calergi. The history of the Venice Casino is really so curious and mysterious, that it is worth visiting just to see the place where the homicide of a nobleman was committed.
Of course, don't forget that the casino also has a dress code.
Venice's hidden gardens
Venice is full of surprises. In fact, among its streets and squares, there are a lot of secret gardens, hidden behind high walls and decorated gates. We suggest taking some time to visit at least one of them, because they are really something you should see during your stay. Here's our guide of the secret gardens in Venice you can print out and bring with you once you're here exploring.
Churches in Venice
There are 137 churches in Venice and we don't expect you to visit all of them, of course! This is why we put together a selection of the top ones we really recommend visiting. You can use this list as a small guide, but if you see a church that inspires you while walking in Venice, don't hesitate to enter just because it is not listed in our article, because it may conceal some wonderful surprises!
Museums and Galleries
If you love visiting museums, Venice is definitely the city for you. There are plenty of museums and galleries in Venice you can choose from, starting with the top ones we collected in this blog-post. If you're staying with us and you're planning to visit one or more museums, don't hesitate to ask us for tips, we'll be happy to keep you posted with all the new exhibitions in town!
Would you like some more tips about what to eat in Venice? Here's something you might find interesting: Venetian cuisine, 5 things you can only eat in Venice.