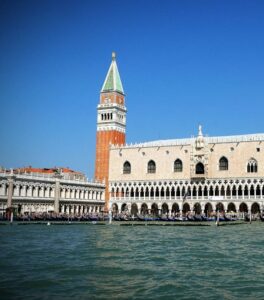 Visiting the Doge's Palace is one of the top 10 things you must do in Venice. After all, it is among the symbols of the city that once was one of the strongest maritime republics in the world. 

Millions of people stop by every year, even only to admire its Venetian Gothic structure and its imposing figure overlooking St Mark's basin. The wisest tourists are those who choose to buy a ticket.  Once inside the palace, they can get lost in its majestic rooms, imagine what kind of life in the palace must have been like during the heyday of the Serenissima and perhaps discover the many secret passages it hides.
In this article, you will find all information you need about the ticket cost for the Doge's Palace and how to buy them easily online. If you like you could also take advantage of the "skip the line" service.
How much does a ticket for the Doge's Palace in Venice cost?
The cost of a full-price ticket to visit the Doge's Palace is €25.00, the reduced price ticket is €13.00 and includes a visit to the Correr Museum, the National Archaeological Museum and the Monumental Rooms of the Marciana National Library.

The Doge's Palace also offers a less canonical, more curious and original tour, the "Secret Itineraries, which costs 28,00€ (full ticket) and 15,00€ (reduced ticket). 
If we have intrigued you, we suggest you read the article on the Secret Itineraries at the Doge's Palace in our blog. 
Where can I buy tickets for the Doge's Palace in Venice?
You can buy tickets for the Doge's Palace directly online on the official website, or using the Venezia Unica City Pass, a card promoted by the Municipality of Venice. It allows you to visit the city without stress and gives you access to various discounts on transport, exhibitions, museums and much more.
Are you planning to come to Venice with your friends? Would you like to visit the Doge's Palace and St Mark's Basilica?  You can choose a guided tour with Skip the Line ticket included, which lasts no more than 3 hours.
How long does it take to visit the Doge's Palace in Venice?
A visit to the Doge's Palace takes at least 2 hours, but we recommend that you save at least 3 hours to admire each room at your leisure. 
If you decided to visit the other museums included in your ticket, we would recommend you to spend the whole day in the area around St Mark's Square, perhaps taking a break for lunch in one of the little restaurants nearby. 
If you need some advice on what to eat in Venice, we will be happy to give you some suggestions!