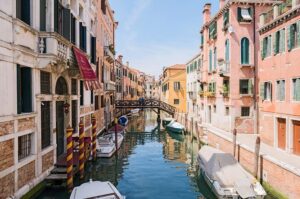 Two days in Venice is a reasonable amount of time to devote to a city so rich in things to see and history to discover, even if a lifetime would not be enough to get to know it in depth. 
Given the number of things to see in Venice, it is certainly not easy to choose what to prioritise, especially for those who find themselves walking through its calli and campi for the first time. That is why we have created a mini-guide for visiting Venice in 2 days, which you can print out and take with you once you are here. 
Read also: Why one day in Venice is too little
Day 1
We suggest you dedicate the first day to the main attractions and get to know the city. Venice is a labyrinth in which it is easy to get lost, but this is the best way to discover its most hidden and unexpected secrets.
On the first day in Venice we suggest you visit the Doge's Palace, perhaps by booking a tour of the secret itineraries in advance, the Bridge of Sighs, St Mark's Square with its majestic Basilica, the lion's pinch and St Mark's Bell Tower, and, finally, the Rialto area, passing through the Mercerie – the perfect place to do some shopping.
Once you arrive in the Rialto area, since it is now afternoon, take the opportunity to admire Venice from above by climbing up to the terrace of the Fondaco dei Tedeschi and treat yourself to an aperitif in true Venetian style, with an excellent spritz and a few 'cicchetti' in Erbaria while admiring the oldest church in the whole of Venice: San Giacometo. 
In the evening, a trip to the Venice Casino or the Teatro la Fenice might be a good way to spend a different evening!
Day 2
On the second day, we recommend visiting the Jewish Ghetto area, one of the oldest in Europe, divided into Ghetto Nuovo, Ghetto Vecchio and Ghetto Vecchissimo. 
You can also take the opportunity to treat yourself to a gondola tour, usually lasting an hour or so, to discover Venice from its most fascinating side: from the water. 
In the afternoon, if you are a museum lover, we recommend a visit to the Ca' Rezzonico Museum. It will be like going back in time to the heyday of the Serenissima and discovering its customs and traditions. 
Once out of the museum, head towards the Basilica dei Frari, one of the largest and most beautiful churches in the whole of Venice, with several works of art by the famous Tintoretto inside. Tiziano Vecellio is also buried here, in a tomb created by Canova, which is truly spectacular.
In addition to this suggested itinerary, we recommend the 10 things you absolutely cannot miss in Venice, in this article.