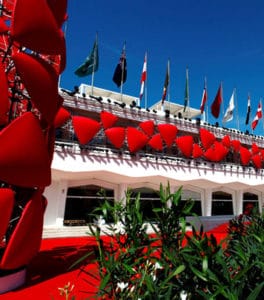 Everyone knows that visiting Venice in August means finding sunny weather almost every day, but this isn't the only thing our customers want to know when they are coming to the city in summer.
In this article, we have collected the most frequent questions about experiencing Venice in August that you might want to get an answer to, in order to plan your vacation here with no stress.
Anyway, if you need us to answer other questions about visiting Venice in summer, feel free to write us an email, or contact us through our Facebook page.
What's Venice like in August?
Venice in August is crowded and hot, we can't lie about this point, but this shouldn't be good a reason to postpone your trip. There are a lot of things you can do in Venice (and outside Venice) in this month – for example, you can take advantage of the perfect weather to go to the Lido beach and have a refreshing swim.
Lido is an island you can easily reach with a vaporetto, where Venetians usually spend their summer if they have no other plans.
If it's too hot for you, you might consider the idea of a day trip from Venice to the Dolomites, to breathe some fresh air and come back to the city for dinner.
How busy is Venice in August?
It will be busy enough, if we may say so, but you can avoid the majority of the queues booking your visits in advance, thanks to the Venice City Pass. This is especially recommended for the most famous attractions such the Doge's Palace, a boat tour to the Venice islands, and the St. Mark's Basilica.
Moreover, Venice is a city full of hidden gems, which means that you'll always find a place that other people can't immediately reach, especially without our guide about how to get around Venice easily.
Does Venice flood in August?
No, Venice doesn't flood in August. The high-tide season is winter, precisely between November and February. So, no rain boots are required if you come to Venice in August, just a pair of flip-flops.
However, if you want to know more about the Venice high tide, we have written a whole article about this unique event that affects the city every year, that you can read here.
Will you find mosquitoes in Venice in August?
You might be surprised about the answer, since it's difficult to find mosquitoes in Venice during the summer, despite what people think. Being built on a lagoon, Venice should be full of mosquitoes, but the truth is that Mestre, on the mainland, has actually more.
We can assure you will sleep peacefully in our hotel rooms, which are all equipped with air conditioning.
What are the main events in Venice in August?
There's one event in particular that you shouldn't miss in Venice in August: the Film Festival!
It usually starts the last couple of days of the month, and ends on the first week of September.
This event is a must for all those who love movies and dream about walking on the red carpet for once in their lifetime.
Besides, Venice has always been a city where many movies have been filmed, such as The Tourist or Casino Royal.
Venice is always worth visiting, even in August, when the weather is surely hot but the days are longer… isn't it true?